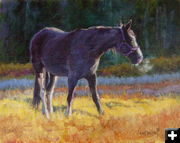 Frosty Morning

Charmian McLellan's oil painting, "Frosty Morning", placed first in Oils.


Mixed Media Artists shine at State Art Convention
by Mixed Media Artists
May 18, 2015

The 60th anniversary of the Wyoming Artists' Association was celebrated the first weekend of May in Gillette. Artists from across the state participated in four workshops, the art exhibit, Quick Draw and art auction, luncheon business meeting, and costume banquet and returned home enthusiastic and inspired for yet another year.

Local Mixed Media artists attending were Debbie Despain and Sharon Schell, Big Piney; Laurie and Devan LaMere, Jackson; Kay Meeks, Daniel; and Charmian McLellan, Boulder. The artists reaped several awards. Laurie LaMere received "President's Choice" for "Grand Opening" and third place in Oils for "Misty Morning". Sharon Schell placed first in Sculpture with "Melony". Kay Meeks's oil painting, "Meadow Trysting", is on its way to Wyoming's Congressional offices in Washington, D. C. She also received second place in Oils for "Fall's Recompense". Charmian McLellan's oil painting, "Grande Dame", was selected "People's Choice" and her oil painting, "Frosty Morning", placed first in Oils.

The 2016 WAA convention will be held in Dubois at the Headwaters Conference Center. Well-known artist, Tom Lucas, is president. Sharon Schell was elected vice president/secretary and will host the convention in 2017.

Artists interested in joining WAA are encouraged to contact Kay Meeks, 307-859-8828 or Charmian McLellan, 307-537-5488.