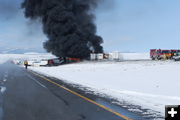 I-80 Pile-up west of Laramie

Interstate 80 closed on Monday, April 20th, 18 miles west of Laramie in eastern Wyoming due to a pile-up involving 21-40 vehicles and a large fire. There are multiple injuries and one fatality reported.


Major vehicle pile-up closes I-80 in eastern Wyoming
21-40 vehicles involved, large fire, multiple injuries, one fatality reported
by Wyoming Highway Patrol
April 20, 2015

I-80 Crash update, 11:00PM, Monday, April 20th:
59 vehicles have been confirmed to be involved in this morning's crash with the potential of another four to six more. The large fire that ensued from the crash delayed the investigation efforts for an extended period. Wyoming Highway Patrol Crash Team Members and the Wyoming Division of Criminal Investigation are still continuing to work through the crash scene.

An estimated 20 - 25 motorists were transported to Ivinson Memorial Hospital in Laramie, Wyoming. 10 were transported to the hospital by ambulance and the remainder were brought in either by school bus or personal transport. Of those who were seen by the hospital, three were admitted to I.M.H. and one was transferred to University Hospital in Denver, Colorado. Still only one confirmed fatality has been reported so far.

The tanker hauling hazardous materials in the crash did catch fire but did not bleve so the hazardous material was not released into the open.

One arrest has been made from the crash at this time. 45 year old Alex Dragaytsev, from Longueuil, Quebec, Canada, has been arrested and charged with aggravated vehicular homicide. Mr. Dragaytsev has been transported to the Albany County Detention Center in Laramie.

A digital message sign 19 miles before the crash site had been advising westbound motorists of "Reduced Visibility, Black Ice and Reduce Speed" since 5:57 a.m. that morning.

Interstate 80 remains closed between Laramie and Sinclair. Westbound traffic from Laramie has been rerouted on US 30 to Walcott Junction. The extensive investigation and cleanup will keep that stretch of I 80 closed for some time. Motorists can check www.wyoroad.info or call 1-888-WYO-ROAD for updates on the closure.
_____________________________________

Original post, 11:30AM:
For the second time in less than five days, Interstate 80 is closed due to a major vehicle pileup approximately 18 miles west of Laramie at mile post 292.

Dense fog and light slush conditions are being cited as contributing factors in this crash. Initial reports are that two commercial vehicles crashed with each other at approximately 8:00 a.m. today causing one of the trucks to jackknife in both lanes of I 80 westbound. After the jackknife, the chain reaction of crashes began as multiple westbound vehicles crashed into the jackknifed truck and each other.

Very preliminary information has approximately 21 - 40 vehicles involved. Multiple injuries and one fatality have been confirmed. The investigation and cleanup has been hampered due to a large fire that is still burning from the crash with a 22,000 gallon tanker of Butyl Cellosolve (hazardous material) involved in the fire.

We ask that motorists waiting at the road closed gates be patient and check www.wyoroad.info or call 1-888-WYO-ROAD for updates when the interstate will reopen.