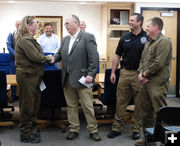 Special recognition

Former Sublette County Sheriff Dave Lankford thanks Kristi Howell and Kevin Koessell for their help in providing information that led to the arrest of a man who evaded capture for more than four years for brutally assaulting three Pinedale women between 2010 and 2014. Pictured in the back are Sublette County Commissioner Joel Bousman, Andy Nelson and Jim Latta. On the right are SCSO Detective Lance Gehlhausen and Kevin Koessell.



Thanking Kevin

Former Sublette County Sheriff Lankford and Detective Gehlhausen thank Kevin Koessell for his help in bringing valuable information forward to help solve the assaults. Sublette County Commissioners Andy Nelson and Jim Latta look on.


Two citizens officially commended for helping catch serial assailant
by Dawn Ballou, Pinedale Online!
March 18, 2015

The Sublette County Commissioners held a special recognition gathering in the Sublette County Courthouse on Wednesday, March 18th to commend two citizens whose information contributed to the arrest and conviction of serial assailant Brian James McDonald.

Sheriff Lankford thanked Kristi Howell and Kevin Koessell on behalf of the victims, community and law enforcement saying the information they brought forward helped them solve the crime and get McDonald off the street.

Lankford presented each with a check for $10,000, the rewards the Commissioners offered seeking information about who might be responsible for the brutal attacks against two Pinedale women who were attacked in 2010 and 2014. Ultimately, three women would fall victim to the serial assailant who entered their residences in the night and brutally beat them as they slept. Each of the victims suffered severe injuries in the beatings. McDonald evaded detection for four years living in the community before finally being caught after his third vicious attack.

Former Sublette County Sheriff Dave Lankford said the information these citizens provided helped law enforcement solve these crimes. Law enforcement officials spent four years actively working on the case. Sublette County Sheriff's Office Detective Lance Gehlhausen spent countless hours working on the case and investigating every possible lead. Lankford said, "One of the highlights of my career was the day the lab called and said they had a match to the DNA."

McDonald was sentenced in February to three consecutive 50-70 year prison terms for Attempted Murder in the Second Degree.