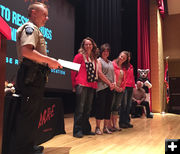 Teacher awards

Sheriff Haskell looks on as Deputy Mason Zeiger presents gifts and certificates of appreciation to Big Piney Elementary School Principal, Amy Bell, and teachers Christine Willford, Logan Barlow, and Jeanne Davis. Photo courtesy Sublette County Sheriff's Office.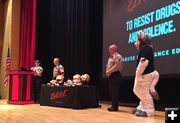 DARE awards

Sgt. Katherine Peterson, Deputy Mason Zeiger, Sheriff Stephen Haskell and "Daryl" line up to present DARE awards to the Big Piney students. Photo courtesy Sublette County Sheriff's Office.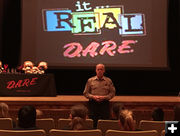 Big Piney DARE

Colonel Mark Farrell addresses the students during their DARE ceremony. Photo courtesy Sublette County Sheriff's Office.


Big Piney celebrates DARE culmination
Teaching students good decision making skills to help them lead safe and healthy lives
by Sublette County Sheriff's Office
March 31, 2015

BIG PINEY - The fifth grade classes in Big Piney celebrated the culmination of their DARE program at the Fine Arts Center on Friday, March 27, 2015. Over the course of their program, the students learned the health effects and facts about alcohol and tobacco, how to deal with stressful situations, bullying, helping others, dealing with peer pressure, and a number of other essential lessons that they will be able to carry with them as they move into the Middle School next year. Each student received some special gifts for their efforts, including a goodie-bag, t-shirt, and Certificate of Completion. Awards were also given to those students who excelled in the essay competition.

This was the last class for Sgt. Katherine Peterson (a.k.a. "Officer Kam") as she accepted a new position with the Sheriff's Office last January. "I have had the profound opportunity to work with our community's youth for three years," she said. "It can be difficult to remember why you chose a profession like law enforcement… until you get attacked by a bunch of happy kids who want nothing more than to give you a hug. It's overwhelmingly rewarding." Sgt. Peterson turns the reins of the program over to Deputy Mason Zeiger. "He'll be great. He doesn't mind being silly with the kids, and that's incredibly important." Deputy Zeiger has been assisting with the Big Piney classes since January, and will take over completely with the Pinedale fifth graders after Spring Break.