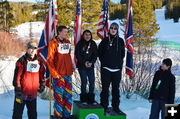 On the podium

Marlin Sosa is barely able to contain her excitement after winning the Gold Medal for Alpine Skiing. Thoren Harding took Silver and Brendon Burke took Bronze. Photo by Terry Allen.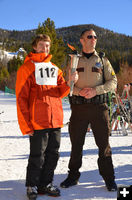 Taking the torch

Special Olympian Rubin Gutierriz from Jackson accepts the Olympic Torch from SCSO Deputy Logan Gehlhausen and prepares to lead the Special Olympians Competitors in the Opening Ceremony of Special Olympics - Area Winter Games at White Pine. Photo by Terry Allen.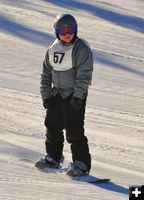 Brandon Higgs

Brandon Higgs of Jackson took Gold in the Snowboard Slalom. Photo by Terry Allen.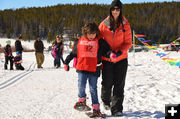 Snowshoe Competition

Snowshoe Competition High-stepping Bronze Medalist Bailey Skinner of Star Valley and her Advisor Coach kick to the finish line in the Snow Shoe competition. Photo by Terry Allen.


A Special Olympic Day at White Pine
by Terry Allen
January 24, 2015

A smiling Rubin Gutierriz of Jackson, accepted the Olympic Torch from Sublette County sheriffís deputy Logan Gehlhausen, and held it high in the Opening Ceremonies of the Area II Winter Games of the 2015 Wyoming Special Olympics at White Pine ski area on Thursday, January 22nd.

From out of the cheering crowd, Mona Sobieski stepped to the microphone and led the assembled competitors in a rousing recitation of the Athlete Oath: "Let me win, but if I cannot win, let me be brave in the attempt."

The huge crowd of athletes, athlete advisors, volunteers and resort staff then scattered like a covey of quail, only to re-form into smaller groups, as they set about making last minute preparations and checking their game plans.

From some huddles came whispered speed secrets. "Iím thinking of trying my momís green slime, but I havenít worked up the courage to drink it yet," said Kelby Woolf. "Iíve a got a lot of quarters in my pocket," said Kallon Hawkes of Star Valley, who appears to have studied the science of speed, but not cracked the rule book, yet.

Sublette County EMS personnel Alex Sain and Blaine Meyers stood at the ready surveying the activities. "Weíre hoping for a fun day," said Sain. "We wanted to volunteer with our ambulance, but we hope we arenít necessary," added Meyers.

While most of Sublette County slept, Amy Linn, sister of John Linn, said she had been up in the pre-dawn darkness double-checking her gear and packing her bags. "Iíve been competing in these games for about seventeen years straight and Iíd hate to break my streak by forgetting something important," she said.

Jennifer Holmes, mother of veteran Special Olympian Melanie Holmes emphasized the value of participation to both the community and the individual.

"The events do wonders for their self-confidence and self-esteem. These athletes are so encouraging and supportive of each other. They come home from these gatherings with happy memories of good times spent with fun people, and thatís what the Special Olympics is all about," She added. "I think all teens, as athletes or volunteers, should participate in the Games at least once. Theyíll learn empathy, patience and understanding, have fun and make new friends."

Holmes also has high praise for the organizations and volunteers that make the Games possible. "The Special Olympics is a wonderful organization and without the event planners and team coaches, it wouldnít be as successful as it is. Iíll always be grateful that my daughter has been able to be a part of the Sublette County team."

Don Carr, who has been the national USA coach for 30 years, feels voluntarism has been essential to making the event a success for so many years. "Working with people who come together in a spirit of goodwill toward others, has made this a truly rewarding and worthwhile endeavor," Carr said. "This year in particular, the beyond the call of duty help given by Lat Straley and John Linn was critical. We couldnít have done it without them."

The legendary Courtney Skinner flew low and quiet around the mountain as he kept busy setting gates, podium, national, state and Olympic flags; in between taking graceful runs down the mountain. "Oh, you should talk to my wife," he said. "Sheís the one in the family who does all the work; but Iíll be at the state champs, too," he said. "You can count on that."

Regan Diller, Director of Field Services for Special Olympics Wyoming says there is room in his organization for every athlete who wants to compete and every volunteer who would like to help. "We have 85 athletes competing today at three different skill and ability levels," he said. "It takes a lot of work and a lot of caring involvement to make each event a success."

Kassi Knudson has been competing as an Alpine Sit-Skier for several years and this event is the high point of each winter season. "I like competing first," she said. "But, seeing all my old friends is a real close second."

Annalee Neary is Kassiís Direct Support Professional and her assistance is necessary to Kassiís participation. "It is a special sled built just for Kassi," she said. Itís very flexible, so it is sensitive to slight input from the athlete. Iím just sort of there as a guide."

The always busy, Robyn Blackburn, partner of White Pine Ski Resort was pleased with the dayís activities and results. "It is exciting to see the capabilities that these athletes possess. We are proud to have invited one of the athletes to help us out on the grill floor at White Pine. He is proving to be an asset."

So, while many of us thought we better not risk turning a knee or catching a cold, 85 athletes and several times that number of support and volunteer staff, challenged the mountain and themselves, and all went home winners. Alex and Blaine drove the EMS ambulance back to the barn, empty.

Photos by Terry Allen
____________________________________

Editorís Note: Athletes who placed will go on to the 2015 Winter Games in Jackson, Wyoming February 3-5.