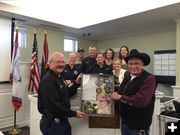 Deputy Gene Bryson to retire

Sheriff Stephen R. Haskell (front left) presents a shadow-box full of mementos to Deputy Gene Bryson as a "thank you" for 40 years of Wyoming law enforcement service. Photo courtesy Sublette County Sheriff's Office.


Veteran deputy retires
Deputy Gene Bryson, 40 years of Wyoming law enforcement service
by Sublette County Sheriff's Office
January 30, 2015

After this morning (Friday, January 30, 2015), the Sublette County Sheriff's Office in Pinedale will have one less veteran peace officer on the job as it says goodbye to Deputy Gene Bryson on January 31. Deputy Bryson will be exchanging his gun and badge with fishing poles and hunting gear when he retires after 40 years of Wyoming law enforcement service.

Whether they have just met him or have known him for years, people who speak with Gene Bryson, with his weathered face and raspy voice, can't help but see in him the toughness and the grit that made the Old West what it was - no wonder Pinedale was voted one of the last true "Western" towns.

Bryson was raised in Kalispell, Montana, and dreamed of ranching and running cows. It was this dream that led him to Niobrara County, in east-central Wyoming. After sustaining a knee injury that prevented him from riding horses for a few years, in 1974 he walked into the county seat, Douglas, and joined the Niobrara County Sheriff's Office.

In 1979, after the resignation of his predecessor, Deputy Bryson was appointed as Sheriff of Niobrara County. He ran for the office two more times, winning both races, before resigning in 1984 to move to Sublette County.

Over his years of service with Sublette County, his positions have included patrol deputy, investigator, and working in court security, working for a total of seven different sheriffs.

Recently asked what he would miss most after four decades in law enforcement, Bryson pointed to the courthouse doors in Pinedale and said, "The people that come in here. I know a lot of them, and I'll miss seeing them so often."

Gene Bryson won't be going far in retirement, though. He has run a gun shop in Marbleton on a part-time basis for many years, and now he's looking forward to committing his time fully to running his business.

Asked what his advice would be to anyone thinking about a career in law enforcement, his reply was this: "It's a hell of a ride. You will see things you won't believe and things you don't want to see at all. We don't see them as much as they do in Salt Lake, but when we do see them, they are just as real."

Sheriff Steve Haskell joined all the men and women of the Sublette County Sheriff's Office in thanking Gene for his 40 years of service, devotion to duty, and the sacrifices he and his family have made in serving their community.