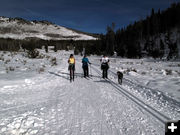 Skiing fun

Photo courtesy Mike Looney, Groomer, Sublette County Recreation Board.

Nordic skiing fun
35+KM of free groomed Nordic ski trails available
December 17, 2014
The Sublette County Recreation Board maintains more than 35KM of free groomed Nordic ski trails for public recreation in the Pinedale area. Trails are available near White Pine Ski area, up Skyline Drive, near the CCC Ponds by Fremont Lake, and at the Pinedale golf course. Ski trail grooming reports are posted on Pinedale Online during the ski season. How often the trails are groomed depends on how much snow the weather brings from day to day (it might be a couple of days inbetween grooming reports). Depending on conditions, trails may be flat groomed or set with classic or skating tracks. Dogs are ok to bring on the ski trails, but people are asked to pick up their petís droppings and remove them from the trail to keep the trails clean for everyone (or better yet, train your dog to do his business off the ski trail). Click on this link for a map of Nordic ski trails near Pinedale.