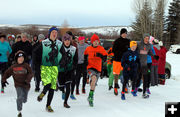 And they are off

"And they are off" the beginning of the race. Photos by Ellen Sheppard.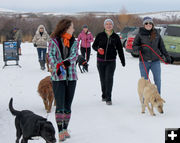 Having fun

Retta Hudlow, JoLee Springman, Cally Driessen, Robin Winters, Maggie Hudlow.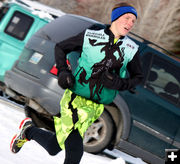 David Rule

David Rule - First place finisher (running division)


176 hardy trotters take part in the 2014 Pinedale Turkey Trot
by R. Craig Sheppard
December 2, 2014

Over 176 registered turkey trotters woke up to a beautiful Pinedale morning Thanksgiving Day, November 27th. The temperature was 18 degrees with no wind to aid the walkers, bikers and runners in seeing the great Wind River Mountains on their yearly 3-mile adventure over the true "over the river and through the woods" course. However, the route was pretty icy on the corners this year. Just to prove how hardy these aerobic enthusiasts are, there were a lot of comments on how nice the weather was. Most places would be looking for alternate indoor venues for their Thanksgiving runs at this temperature. Just in case of some cold-blooded participants, Wyatt provided two metal tubs of firewood burning for those who needed to warmup a little before the race. He also recorded the times of all finishers so that his dad could run the race. Ellen Sheppard was in charge of the hospitality garage, making sure all finishers went to have their times recorded and photography. She also had plenty of warm coffee ready for the early birds.

As usual, there were all types of exercisers participating. We had participants from 1-year olds Josiah Pearce, Nathan Anderson and Shaylee Paravicini to a 70-year young person. We had walkers, runners, run/walkers, trotters, baby strollers and bicycle riders. Thirteen-year old Riley Wilson was the first to finish the course on a bike. Matter of fact, he eventually circled the course three times. There were people from 10 different states, 7 towns or cities in Wyoming, and we even had Jack Morris from Scotland. There were also plenty of dogs around to help pull their owners through the course. If we added the canines to our list of participants, we would have been close to 250 involved. These added guests were not totally unobserved, for Ellenís cats were on high alert inside the house.

Even though this is a fun run/walk, we would like to recognize a few individuals. 17-year old Pinedale high school senior, David Rule, was the first runner to cross the finish line in a time of 19:44 (this was his second year in a row to win the running portion). David was followed by sixteen-year old Nathan Stewart in a time of 20:26. PJ Quealy of Laguna Beach, California was the first adult male in a time of 20:37. This weather sure had to be a shock from his training runs! Ken Konicek once again was the first masters runner in 20:16. Ian Polickyís dog, "Lou" was the first canine to pull their master across the finish line for an 8th place finish. As far as head turkey Sheppard, he did not fare so well. He is getting farther back in the pack, but is still having fun visiting with everyone before, during and after the race.

Stacy Sluyter won the womenís division with a time of 23:41, and Kelsi Sluyter followed her 7 seconds later for second place. Our mature female running division was won by Turkey Trot veteran Terry Cain (26:19).

By far the biggest portion of this race is dominated by the true walkers. Charlett Blankenship, Karen and Dan Stewart as usual were the first walkers to cross the finish line. All of our hardy participants are winners for getting out and getting some exercise on such a beautiful Pinedale morning.

I know there are many names not mentioned in this article, but it is fun to see so many friends, families, school alumni and visitors gathering to take in the beautiful scenery and fresh air of Pinedale. Thanks go out to the Pinedale schools for use of their tables, bull horn and cones; Pinedale Half Marathon for use of their timer; and also to the Pinedale newspapers, banks and Pinedale Online for advertising. I especially need to thank my family (Ellen and Wyatt) for putting up with my many passions of which one is running the Pinedale Turkey Trot.

This was the 24th running of the Pinedale Turkey Trot and with all the favorable comments it seems to have developed into a great annual tradition for the Pinedale community and their Thanksgiving guests. Donít forget it is never too late to get in shape for the 25th annual Pinedale Turkey Trot which will be held Thanksgiving morning, 2015 at the Sheppardís house at 9AM. See you then!

Photo by Ellen Sheppard.