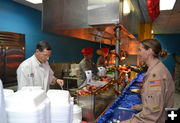 Serving the 187th

Senator Barrasso serving Thanksgiving dinner to members of the 187th Airlift Squadron. Photo courtesy Senator Barrasso's office.


Wyoming Senator Barrasso spends Thanksgiving with Wyoming troops in Qatar
by Senator Barrasso media release
November 27, 2014

QATAR – U.S. Senator John Barrasso (R-Wyo.) shared Thanksgiving dinner with Wyoming National Guard airmen serving in Qatar. Barrasso visited with members of the 187th Airlift Squadron, who support airlift operations out of Al Udeid Air Base.

"Wyoming has about 100 Air National Guard airmen deployed in Qatar and they are doing an outstanding job," said Barrasso. "I was honored to share Thanksgiving with them and have the opportunity to speak with them about home. We talked about Cowboy football, their families and the weather back home. I made sure they knew how much folks back in Wyoming miss them and how proud we are of their service."

Barrasso served Thanksgiving dinner to the service members, toured the 187th facilities, and was briefed by military officials about the operations in the Middle East.
_______________________________________

Editor's note: Pinedale sends our thanks to our servicemen and women who are serving our country so far from home this Thanksgiving Day. Thank you also Senator Barrasso for being there today on behalf of all of us who wish we could stand beside you to also give our thanks to all our brave soldiers. - Dawn Ballou, Editor, Pinedale Online!