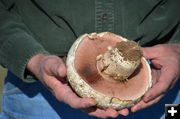 Plate

Some of the mushrooms are plate- sized.


Mushroom Eruption
by Cat Urbigkit, Pinedale Online!
August 31, 2014

Sublette County's arid rangeland has responded to the recent abundance of moisture with an eruption of mushrooms. From small and tasty meadow mushrooms to plate-sized versions growing in natural gas fields, mushrooms are sprouting! Readers are cautioned to be sure to identify which mushrooms are safe to eat, and if there is a question, don't eat it!