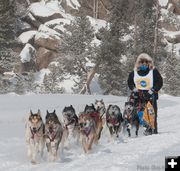 Stacey Teasley

Bondurant, Wyoming racer Stacey Teasley, wife of race creator Frank Teasley, had the fastest time on the Lander leg on Tuesday. Photo by Chris Havener.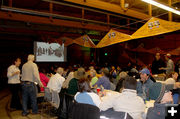 Big turn out

A large crowd turned out for Pinedale's Meet the Musher banquet in the Lovatt Room of the Pinedale Library Tuesday evening.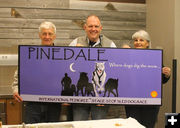 Representing Pinedale

L to R: Pinedale Town Councilman Dave Hohl, Pinedale Mayor Stephen Smith, Pinedale Animal Control Officer Julie Early.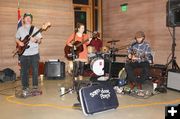 Screen Door Porch

'Screen Door Porch' is the official band of the IPSSSDR and travels to each town with each race, providing live music at the evening dinners.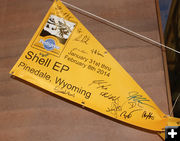 Thank you Shell!

Shell very generously helped sponsor the 2014 Pinedale Stage Stop race and the Meet the Musher banquet.



Go to www.wyomingstagesteop.org for the official IPSSSDR website, daily race results, and lots of photos and videos of all the action.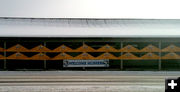 Pinedale Town Hall

Pinedale Stage Stop banner sponsors on display in front of the Pinedale Town Hall on Tuesday. All the mushers autographhed each banner, which are attached to the sleds during each town's race.


Welcome Mushers!
by Pinedale Online!
February 5, 2014

The 2014 IPSSSDR, International Pedigree Stage Stop Sled Dog Race, takes place January 31 through February 8th. The race uses a "stage stop" format, meaning teams do a race each day in a designated stop, then has a chance to rest the night in their next host town and run that town's race the following day. The race runs through four states in eight days, starting in Jackson, Wyoming and finishing in Evanston, Wyoming.

Pinedale has been an official Stage Stop with the race for 19 years. Race sponsor, Pedigree, donates free dog food to animal shelters in each of the stage stop towns. Donors help the individual towns provide check donations to local health care providers to do immunizations in the community. Last year the Pinedale Stage Stop was able to raise money to give 145 flu shots in the community. This year the Pinedale Stage Stop has 145 banner sponsors who help make the race possible. Pinedale events begin with a Meet the Musher banquet on Tuesday night, Feb. 4th in the Lovatt Room of the Pinedale Library. The Pinedale Stage Stop race takes place Wednesday morning at 9AM in the Upper Green to compete in a 47 miles loop race. From Pinedale, teams travel to Big Piney/Marbleton for their events Wednesday evening and their 44-mile race on Thursday morning.

The IPSSSSDR began in 1996 when Frank Teasley, with the help of public nurse Jayne Ottman, launched the International Pedigree Stage Stop Sled Dog Race to showcase the beautiful state of Wyoming and to make sled dog racing more accessible to the public. In addition, the race worked to spread the word about the need for childhood immunizations and each year the race makes a contribution to communities on the race route for childhood immunizations.

Mushers:
1. Frank Moe, Hovland, Minnesota
2. Jerry Bath, Lander, Wyoming
3. Stacey Teasley, Jackson , Wyoming
4. Bruce Magnusson, Cheyboygan, Michigan
5. Arleigh Reynolds, Salcha , Alaska
6. Jeff Conn, Ester , Alaska
7. Jenny Greger, Bozeman , Montana
8. JR Anderson, Buyck, Minnesota
9. Blayne Buddy Streeper, Fort Nelson, BC Canada
10. John Stewart, Scotland/ Utah
11. Dennis Laboda, Hovland, Minnesota
12. Sylvain Robillard, Quebec , Canada
13. Andrew Letzring, Wisconsin
14. Ryan Redington, Knik , Alaska
15. Alix Crittenden, Willow , Ak/Bondurant , Wyoming
16. Aaron Peck, Grande Prairie AB Canada
17. Dave Turner, Sandy , Oregon

Junior Mushers:
Select students, aged 9 to 13, from the International Pedigree Stage Stop Sled Dog Race communities of Jackson, Lander, Alpine, Pinedale, Big Piney, Marbleton, Kemmerer, Diamondville and Uinta County, Wyoming, and West Yellowstone, Montana, get to participate in a sled dog race of their own on the final day of the race in Evanston.
2014 Jr Mushers for Sublette County are:
Brent Faler, Pinedale
Vincent Faler, Pinedale
Allison Staten, Pinedale
Amma Taylor, Big Piney
Hunter Fisher, Big Piney

Purse:
Overall Purse Breakdown
1st – $10,000.00
2nd – $8,300.00
3rd – $6,650.00
4th – $5,300.00
5th – $4,300.00
6th – $3,300.00
7th – $2,700.00
8th – $2,200.00
9th – $1,700.00
10th – $1,600.00
11th – $1,400.00
12th – $1,200.00
13th – $1,000.00
14th – $850.00
15th – $700.00
16th – $500.00
17th – $500.00
18th – $500.00
19th – $500.00
20th – $500.00

Day Money (Days 2 - 7)
1st – $868.00
2nd – $726.00
3rd – $589.00
4th – $476.00
5th – $393.00
6th – $310.00
7th – $260.00
8th – $218.00
9th – $176.00
10th – $151.00

Shelters on the Race:
Pedigree Provides one year's worth for food for one dog to each animal shelter on the race route:
Jackson Animal Shelter
Animal Humane Assoc of Star Valley
Town of Pinedale Animal Shelter
Lander Pet Connection
Paws & Claws
Happy Tails Fur Ever
Uinta co/Evanston Animal Control

Stage Race Mileage:
Jackson: 2 miles
West Yellowstone: 56 miles
Alpine: 56 miles
Pinedale: 47 miles
Lander: 50 miles
Big Piney/ Marbleton: 44 miles
Kemmerer: 50 miles
Uinta County: 45 miles

Photos by Chris Havener-IPSSSDR, and Dawn Ballou-Pinedale Online!