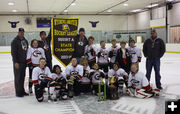 2013/2014 Pinedale Squirts

Back row left to right: Cora Murphy, Jayden Currah, Teagan Bowers, Anton Kudar, Tommy Day, Zain Roberts. Front left to right: Troy Later, Kaden Irey, Brandon Heuck, Brenden Davis, Bridger Smith, Duke Carson, Haddy Smith.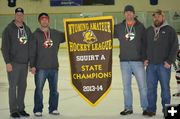 Squirt Coaches

Pinedale Squirt Coaches (L to R): Michael Kudar, Trent Bowers, Andy Currah, Austin Smith. Photo courtesy Pinedale Hockey Association.


Pinedale Squirts win WAHL State Hockey Championship
by Pinedale Hockey Association
February 27, 2014

The Pinedale Hockey Association (PHA) is proud to announce that the Pinedale Glacier Squirts won first place in the Division A Championship on Sunday, February 23.

Pinedale was host to the 2013-2014 Wyoming Amateur Hockey League (WAHL) Squirt State Tournament held at the Sublette County Ice Arena in Pinedale February 21-23. Teams from across the state came to town to compete for the coveted banner and traveling trophy.

The Pinedale team faced some tough competition, but won both of the elimination games. Friday the Glaciers faced Cheyenne Capitals Gold for their first contest of the weekend. Cheyenne scored the first three goals of the first period followed by a power play goal from Jaydon Currah unassisted. Second period saw a goal from Cheyenne early on and a second goal by Bridger Smith unassisted with just eleven seconds left in the period. During the third period the Glaciers really shined scoring the final five goals of the game, two by Zane Roberts, Smith, Troy Laters, and Bowers with assists by Currah, Anton Kudar (2), Bowers and Smith for a final score of 7-4.

Saturday, Pinedale played Gillette Wild White for another 7-4 victory. Goals were scored by Bowers (2), Smith (4), Brandon Heuck and assists from Duke Carson, Kaden Irey (2), Smith (3).

Sunday's championship game against Gillette Wild Purple brought some of the most intense competition of the weekend. An incredibly heated first period saw nine of the fifteen goals of the game with Pinedale goals by Brenden Davis, Bowers (2), Duke Carson and Thomas Day, assists by Smith (2) and Day. Glaciers ruled the second period scoring all three goals first by Cora Murphy with an assist from Smith followed by two unassisted goals by Smith. Bowers scored Pinedale's final goal with assist from Kudar in the third period.

Neighboring Rock Springs Minors won the Division B Championship against the Park County Ice Cats.

Highlights from the weekend included the 'Squirt Olympics' skills competition including Fastest Skater, Fastest Shot, Best Shooter and Best Goalie. Pinedale captured two of the titles; Jaydon Currah won the Fastest Shot (45 mph) and Bridger Smith, Fastest Skater. National Anthem performances by Craig Sheppard on Friday and Saturday, and Gina Anderson choir on Sunday. Senator Mike Enzi visited the rink on Saturday to check out the action.

Pinedale Glacier Midgets also played two regular season games at the Sublette County Ice Arena over the weekend. They went up against number one ranked undefeated Casper Oilers on Friday night and Saturday with losses both games.

The tournament was generously sponsored by businesses and individuals from the community and numerous volunteers worked to make the event run smoothly. PHA President Sam White said "We were very grateful to all of our sponsors and volunteers. The tournament was a great success and we could not have made it happen without them. We also got a lot of complements on our County facility and how nice it is. We really do have the best rink in the State."

Pinedale Glacier Midgets and Peewee teams will be heading to their state tournaments in Cody and Laramie on February 28 through March 2, and the Bantams in Cheyenne March 7 – 9.

Contact the Pinedale Hockey Association for more information at PHA@pinedaleglaciers.com or visit www.pinedaleglaciers.com.