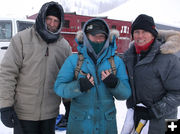 Family fun

Bondurant musher Alix Crittenden is flanked by her parents Barry and Andrea Pearson, who flew west from North Carolina to help out with her IPSSDR debut. Photo by Joy Ufford.



Start Line

On the signal, Alix Crittenden's team of dogs lunge ahead at the Big Piney/Marbleton start line. Photo by Joy Ufford.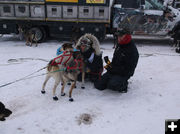 Stacey & Frank Teasley

Jackson Hole Iditarod musher Stacey Teasley and husband Frank. Stacey is racing this year. The couple are founders of the IPSSSDR. Photo by Joy Ufford.


Bondurant mushers Crittenden, Teasley hold steady
International Pedigree Stage Stop Sled Dog Race (IPSSSDR), Big Piney/Marbleton Stage
by Joy Ufford
Original post February 6, 2014, Updated February 8, 2014

Alix Pearson Crittenden, of Bondurant, maintained a sixth-place overall standing in the field of 16 mushers and dogsled teams when the snow settled after Day 6 -¬ the Big Piney/Marbleton stage of the International Pedigree Stage Stop Sled Dog Race (IPSSSDR).

Crittenden, 26, a former employee of Jackson Hole Iditarod (owned by IPSSSDR director Frank and musher Stacey Teasley), exchanged salutes with Stacey shortly before 9 a.m. as dogs were harnessed and feet wrapped in booties Thursday.
Temperatures hovered well below zero at the Middle Piney parking lot where the starting gate and flags were set up for the 9 a.m. start. And although self-promoted as the "Ice Box of the Nation," Big Piney school officials decided it was too cold to shuttle young students out to watch the beginning of the annual Big Piney/Marbleton stage of 44 miles.

This is Crittenden's first year as an IPSSSDR musher, which came about unexpectedly when veteran Bill Kornmuller of Alaska invited her to race his dogs last fall, about two months after she and Sam Crittenden were married in Bondurant.

She went to Alaska in November to train with Kornmuller and they have traveled from there to participate in the IPSSSDR. Alix plans to return to Bondurant in April. Her husband Sam has attended as many races and events as he can around his work schedule.

Also providing both moral and physical support, her parents, Barry and Andrea, decided to fly west from North Carolina to help Alix with her IPSSSDR debut.
Crittenden said Thursday her goal is to end up in the top-five finishers throughout the remainder of the stage-stop race.

Teasley, an IPSSSDR veteran, currently holds fifth place overall after the Big Piney/Marbleton stage. Crittenden finished up in 10th place for that stage with a time of 3:22:52 and Teasley came in ninth, with a time of 3:17:50.

Friday, Feb. 7, brings the 16 teams to Kemmerer for a 50-mile stage at Viva Naughton, with a 45-mile stage next at Mountain View. The grand finale will be Saturday night in Evanston with a closing awards ceremony.

For more information about the IPSSSDR, visit www.wyomingstagestop.org.