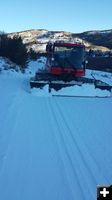 PistenBully

A PistenBully is used to groom the Nordic ski trails. Photo by Mike Looney.

Nordic ski grooming report – Jan. 6, 2014
Report courtesy of Mike Looney, Groomer
January 6, 2014
Monday, Jan. 6, 9:30AM report: All trails groomed. Dusting of new snow, Temperature 12 degrees at White Pine, 20 degrees at the Nordic building. Slight breeze. Wind expected to pick up during the day. Looks like it will be a nice day.

Related Links