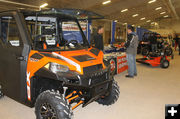 Bucky's Outdoors

Bucky's Outdoors, in Pinedale, brought 4-wheelers, chain saws, log splitters, mowers and more to the Spring fair.

Sublette County Cabin Fever Spring Fair
Home & Garden show
May 4, 2013
Sublette County held their Cabin Fever Spring Fair on Friday and Saturday, May 3rd & 4th in the event center at the Sublette County Fairgrounds. This is the annual home and garden show for the county. The event kicked off with a concert Friday night with bands 32 Below and the Copper Mountain Band. On Saturday, many vendors set up booths to sell items and provide information about their services. There were also many fun things for kids, including a mechanical bull, bouncy house and Velcro wall.

Spring Fair contact info:
Sublette County Fair
PO Box 544
Big Piney, WY 83113
307-276-4161 or 307-749-3546

Photos by Dawn Ballou, Pinedale Online!