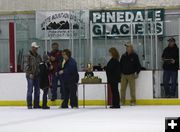 Cate Johnson

Cate Johnson accepts her trophy from the Pinedale Kiwanis Club. Photo by Nan Stinson.


Pinedale Glaciers take 2nd at State Hockey Tournament
Hosted by Pinedale
by Pinedale Hockey Association
March 8, 2013

The Pinedale Glacier Peewees finished second overall in the B Division of the 2012-2013 Wyoming Amateur Hockey League (WAHL) Peewee State Tournament held March 1-3 in Pinedale.

The Glaciers won against the Casper Oilers Friday evening with a score of 5 to 3 and again Saturday, 2 to 1 on top of the Laramie Outlaws. Sunday, the Glaciers faced off against the Rock Springs Miners to determine the winners of the B Division State Championship. Rock Springs edged out Pinedale 8 to 6 in a tough match while parents and spectators cheered on the kids.

The tournament, hosted by the Pinedale Hockey Association (PHA), was held at the Sublette County Ice Arena in Pinedale and teams from across Wyoming came to compete for the title of State Champion.

PHA raised money to offset the cost of hosting the tournament with sponsorships and raffle items donated by members of the community and peewee parents. "The ability to host an event like this really depends on the generosity and support of the community," said PHA President, Greg Noble. "Without all of the donations and willingness to help, we couldn't bring this type of event here to Pinedale."

PHA and the Pinedale Glacier Peewee players were also able to raise $2671.50 to help Catherine Johnson, a Rock Springs player stricken with cancer. The money will go to help her family with medical and travel expenses associated with her illness. Her team was presented with the donation after their game Saturday night. Catherine was able to come and watch the playoff game on Sunday and take part in the trophy award ceremony with her teammates.

The Pinedale Hockey Association and the Pinedale Glacier Peewees would like to thank the many generous sponsors and the community for making the tournament a success.

Full box scores are available at www.wyohockey.com.

For information on Pinedale Hockey Association, visit www.pinedaleglaciers.com.

Photos by Nan Stinson and Dawn Ballou.