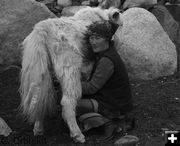 Perils of Nature

Adoption of Mongolia's new constitution in 1992 brought the end of state-owned farms of the socialist era, and freedom to inhabitants of this country that boasts the lowest human population density of any in the world. The winter of 2009/2010 brought the "white death" – a drought followed by heavy snows and frigid temperatures (called "dzud" in Mongolian) for an extended period of time. More than 8 million head of livestock perished – 20 percent of the nation's livestock herds. Since Mongolia's pastoralists live a subsistence lifestyle, the dzud created a humanitarian crisis, with relief organizations stepping in to ensure food distribution to those affected. Yaks are well suited for surviving the severe conditions associated with Mongolia's winters. Livestock in this country provide for nearly all needs of pastoral families: milk and meat; cashmere and other fibers for clothing; dung provides fuels for fires; and the animals provide for draught and transportation as well. More than 80 percent of Mongolia's landmass is used for livestock grazing, a practice at least 1,000 years old in this region.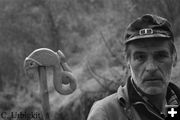 Origin of All Good

Angel is a pastoralist in the Rhodopo Mountains of Bulgaria. He carved this shepherd's crook with a symbolic representation of his beliefs. Included are a ram's head, a wolf, and a serpent. The serpent represents the fact that all good comes from the earth, and the other symbols – the wolf and the ram – represent the interconnectedness of nature. In the last few decades, Europe has experienced an overall agricultural decline, with land abandonment and reforestation of formerly cultivated and grazed range. Government agencies and nongovernmental interests are now working to reverse this trend. Many European countries have adopted programs targeting agrotourism rather than ecotourism, focusing on the cultural landscape rather than a "wild" landscape to attract visitors.


Portraits of Pastoralism project launched
Photo art project by Cat Urbigkit of pastoralists around the globe
by USA Projects press release
February 21, 2013

Cat Urbigkit launched her first project on USA Projects this week. The first microphilanthropy site dedicated exclusively to accomplished artists working in the United States, USA Projects is a unique online community where anyone can discover original projects from some of today's most innovative artists and make tax-deductible donations to support their work. With a funding success rate of over 75%, USA Projects has helped accomplished artists from thirty states realize their artistic projects with support from more than 14,000 unique donors.

Urbigkit's "Portraits of Pastoralism" project involves the development of a traveling public art exhibit of Urbigkit's black-and-white photographs of pastoralists around the globe, illuminating the challenges faced by people whose cultures involve the seasonal movement with livestock herds (transhumance).

This educational exhibit will allow the public to see the faces of the pastoralists and their animals, from cattle and sheep producers on the public rangelands in the American West, to goat herders in Spain, and women milking their yaks in Mongolia. It will help the public to understand that a cowboy on horseback in Wyoming is conducting the same activity as the Lesotho cattle boy, and the same holds true for various people and cultures throughout the globe. The exhibit will help the American public understand the vital importance of these seasonal movements of people and livestock, and the threats to continuing this practice. Urbigkit's goal is to promote public support for maintaining this sustainable use of natural resources, while recognizing and treasuring the human value of a close association with the land.

Learn more about Urbigkit's project, watch her project video, and contribute to her project online at: http://www.usaprojects.org/project/portraits_of_pastoralism (or click on the link below). The deadline for contributions to this project is March 20.

As a program of United States Artists, the nonprofit grantmaking and advocacy organization for artists, USA Projects is uniquely aware of the needs of the artist community and provides an active support network and education program for artists. Donations simultaneously support artists' projects and the nonprofit mission of United States Artists: to invest in America's finest artists and to illuminate the value of artists to society.

USA Projects is also the only microphilanthropy site that offers a patent-pending Match Fund program that gives any individual, group, organization, foundation, or corporation the ability to create a matching fund, specify their criteria, and automatically identify and apply funds to appropriate projects. In total, more than $350,000 in matching funds has been committed from donors since the program's launch.

The site features artistic projects in eight categories: architecture and design; crafts and traditional arts; dance; literature; media; music; theater arts; and visual arts. Each artist sets his or her own fundraising goal and deadline. The public can browse, learn about the artists and their backgrounds, and follow or donate to any active project that inspires them. Supporters can give as little as $1 or as much as they would like and receive a tax deduction as well as exclusive project "perks" offered by participating artists. If a project does not reach its fundraising goal by the deadline set by the artist, the artist does not receive any funding.

All of the artists seeking funding on USA Projects have been recognized for the caliber and impact of their work. Eligibility is currently open to honorees and grantees from prominent international, national, regional, and local organizations, including the USA Fellows program. Additional qualifying organizations are added on an ongoing basis. National partner organizations include American Composers Forum, Film Independent, Creative Capital, Franklin Furnace, National Association of Latino Arts and Culture (NALAC), National Performance Network (NPN), Penland School of Crafts, the Pollack-Krasner Foundation, and Rhizome. Regional partner organizations include the Arkansas Arts Council, Artist Foundation of San Antonio, Austin Film Society, California Community Foundation, Fleishhacker Foundation, Jerome Foundation, Maine Arts Commission, McKnight Foundation, North Carolina Arts Council, PEW Center for Arts & Heritage, and South Carolina Arts Commission. Seed funding for USA Projects was provided by the Ewing Marion Kauffman Foundation of Kansas City and The Andy Warhol Foundation for the Visual Arts.

About United States Artists
United States Artists (USA's) mission is to invest in America's finest artists and illuminate the value of artists to society. Through the USA Fellows program, which annually awards 50 unrestricted grants of $50,000 to outstanding performing, visual, media, and literary artists across the country, USA has put $15 million in the hands of artists in the six years since its founding. USA has extended its mission beyond the successful USA Fellows program with the launch of USA Projects, an online community where people can connect with, learn about, and support America's greatest artists and their next creative breakthroughs. Through the USA Fellows program and the expanded reach of USA Projects, USA continues the work of advocating for living artists and providing a community where they can connect with the public and each other.

For further information, please visit www.usaprojects.org.