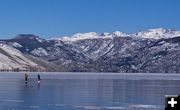 Lake ice skaters

Ice skaters on Fremont Lake in early January. The ice is about 3-5 inches thick and mostly frozen clear. Photo by Dave Bell.

Fremont Lake ice
January 6, 2013
Fremont Lake ice report (as of Saturday, Jan. 5, 2013): According to Dave Bell, the ice on Fremont is now solid and between 3 and 5 inches thick. There is no open water and the edges are frozen. "It is absolutely gorgeous up there right now. There are large sections of totally 'froze clear' ice interspersed with hoar frost covered areas. It is mostly smooth as glass. Last night we were on it and it was cracking and booming, back and forth and up and down the lake."

Click on this link for scenic photos by Dave Bell.
____________________________________

Editor's note: Fremont Lake is located approximately four miles northeast of Pinedale. It is about 11 miles long, a mile wide and about 600 feet deep. Anyone going out on the ice is urged to use extreme caution as ice depth can vary in places. Never go out alone. Be cautious and aware of the possible changing ice conditions around you. Fremont Lake is Pinedale's water supply. Check with the U.S. Forest Service Pinedale Ranger District and Wyoming Game & Fish regarding regulations and rules for recreating on the lake.