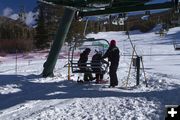 White Pine Ski Area

White Pine Ski Area held a soft opening on Saturday, December 8th to test out the lifts and runs before the main opening on Thursday, December 13th. Photo by Dave Bell.


White Pine Ski Area to open Dec. 13
by Citizens to Save White Pine LLC media release
December 9, 2012

White Pine Ski Resort will open for the Winter 2012/2013 season at 9.00am on Thursday, December 13th.

Recent snowfall has provided good snow cover from the lodge to the top of Great Spirit lift at 9,500'. Both lifts will be operating from Thursday.

Following maintenance and personnel training exercises, a "dress rehearsal" soft opening took place December 8th utilizing Little Spirit Lift. All systems went well and the owners, Citizens to Save White Pine LLC., took the decision to open fully from Thursday.

Normal operating days will be Thursday through Sunday, from 9:00am to 4:00pm.

The Area will also be open throughout the imminent school Christmas holidays, every day from Thursday, December 20th to Tuesday, January 1st.

Plans are being finalized for a Christmas Eve and New Year's Eve Torchlight Procession, plus many other activities. Check out the White Pine Facebook Page, or visit www.whitepineski.com and register for the "e-newsletter."

See you on the slopes this weekend!