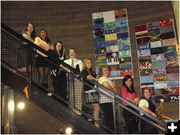 Band & Choir

Photo courtesy Sublette County School District #1


Local musicians participate in SW Wyoming High School Honor Choir and Band
by Sublette County School District #1
November 29, 2012

On Monday and Tuesday, November 19th and 20th, eight Pinedale high school musicians participated in the annual Southwest Wyoming District Honor Choir and Honor Band in Jackson, Wyoming. These students practiced with other musicians from the area schools for two days in Jackson and performed a concert on Tuesday night in the Jackson School Auditorium. They were selected from nominations sent in by the directors from the nine schools participating in this clinic/concert.

The all-district honor choir was directed by Dr. Nicole Lamartine. Dr. Lamartine is the Director of Choral Activities at the University of Wyoming. She conducts the Collegiate Chorale, singing Statesmen and advises the male a capella Happy Jacks. She also teaches music education curriculum, conducting and applied voice.

The all-district honor band was under the direction of Scott Hagen. Mr. Hagen serves as the Director of Bands at the University of Utah School of Music. Hagen teaches both undergraduate and graduate conducting in addition to conducting the University of Utah Wind Ensemble.

Pinedale members in the Honor Choir were Hattie McKay, Jordyn Baker, Hana Patterson and Jace Buchanan. Pinedale band members selected to the Honor Band were Bekah Knapp – clarinet, Mindy Cameron and Chelsea Criddle – flute, and Kelli Terrell – alto saxophone.

These students are under the direction of Gena Anderson – Pinedale High School choir director and Justin Smith – Pinedale High School band director.

Schools participating were Jackson, Lyman, Mountain View, Evanston, Cokeville, Kemmerer, Star Valley, Big Piney and Pinedale.