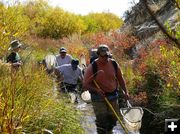 Ditch Electroshocking

When gates to irrigation ditches are closed, fish are stranded. Pictured here, Chauncey Goodrich uses an electrofishing probe while T.U. members and volunteers follow behind, ready to catch temporarily stunned fish tumbling in the flow. A young volunteer stands by on shore, ready to exchange an empty bucket for a bucket of captured fish. Captured fish are measured and recorded, then returned to the main river where the irrigation water came. 2008 file photo by Hal Erickson.


Public invited to help with fall ditch shocking Oct. 6
by Pinedale Online!
October 3, 2012

The public is invited to join Upper Green River Trout Unlimited Chapter in helping with fall ditch shocking on Saturday, October 6, 2012. This is a great way to learn about identification of a variety of local fish. The goal is to salvage fish that are trapped when the gates to irrigation ditches are closed at the end of the growing season, leaving fish stranded as the ditches dry. With the help of Wyoming Game & Fish and Bridger-Teton N.F. fisheries staffers, the T.U. chapter organizes the Shocking/Rescue annually as a family-friendly educational event. As many as 2000 fish could be caught in the project. The captured fish are identified and measured and ultimately returned to the river. Typically, fish recovered include brown trout, rainbow trout, brook trout, speckled dace, red-side shiners, mottled sculpins and white suckers. The fish range in size from fingerlings to well upwards of 20 inches. Volunteers can help in the water or stay out and keep dry.

Meet at 9:00AM at Dennis Schroeder's Ranch, 138 Willow Lake Road (about 400 yards past the 1st cattle guard turn right on your way to Soda and Willow Lakes). A free lunch will provided (burgers, dogs, & soft drinks). Public encouraged to attend. Wear comfortable and sturdy shoes and layered clothing for changing weather conditions. Kids welcome – this is a good family event. For additional information call 307-231-3200.