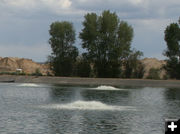 Aeration

Sewage swater goes through a series of aeration ponds at the treatment plant south of Pinedale.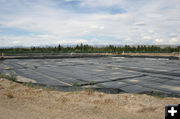 Anaerobic pond

Wastewater flows into the first settling pond where it undergoes treatment conditions without oxygen, similar to how a septic tank works. Special tarps cover the entire pond. There is surprisingly little odor from these ponds.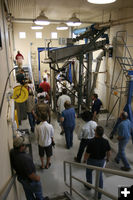 Primary Treatment

Randy Hubbard, Public Works Director, explains what happens in the Primary Treatment facility, which separates out garbage solids that are mixed with sewer waste.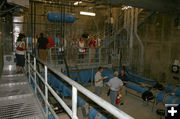 Intake

The water is drawn from two pipes deep underwater near the outlet of Fremont Lake. This is where it enters into the system to begin treatment.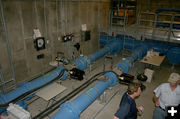 UV treatment

Water moving through these pipes is treated with UV light to kill harmful viruses and bacteria.


Town of Pinedale gives public tour of water and sewer treatment facilities
by Dawn Ballou, Pinedale Online!
July 20, 2012

The Town of Pinedale gave the public a tour of their water and sewer treatment facilities on Thursday, July 19th. The open house and tour was to familiarize the public with the Town's facilities and answer questions ahead of the public meeting next week to discuss the 25% rate increase and future installation of water meters.

The Town's seven public works employees handle the operations at the various treatment and monitoring plants. All of these employees have received training and certification to make sure they are qualified with the latest standards.

The main treatment facility is located south of Pinedale on the west side of Pine Creek. Town sewer and water flows into a series of filtering systems, anaerobic settling ponds, aeration ponds and ultraviolet light treatments to purify the water so it is safe to return to Pine Creek and allow to go downstream. The treatment process takes approximately 14 to 18 days to process from raw sewage to potable water, depending on the volume flow of the water passing through the system.

The drinking water is taken from Fremont Lake as the water source. Two intake pipes, one located approximately 75 feet below the surface and a newer second line approximately 125 ' under the lake feed the Town's water supply. The entire water and sewer system through Town is gravity fed. At the intake, the water undergoes UV and chlorine treatments to kill viruses and any living organisms it may contain. The chlorine kills any E. coli and fecal coliform organisms that would make people sick. The intake and flow systems are constantly monitored with alert networks in place in the event anything should malfunction.

At one time years ago, Pinedale took its drinking water directly from Pine Creek. Later, that was changed to drawing water from Fremont Lake with no treatment. As government standards have become more strict, the Town has upgraded their system to make sure the are in compliance with all the current water quality laws and requirements.


The Town has made a number of upgrades recently to meet upcoming EPA standards which will go into effect in 2014. The EPA safety standards and requirements create purifications systems and redundancy infrastructure that protects Pinedale citizens as well as downstream users who are down the line to receive our processed water.

The Town is working methodically to replace any deteriorating old pipes and failing sewer or water infrastructure as they do their street repair, curb and gutter program. The Town can get grant money to help pay for the underground utility work, but must come up with the complete cost for the surface road and sidewalk work, so that is being done section-by-section around town over time as their budget allows. The next section scheduled to be done for Phase 7 will be the older part of town north of Pine Street to the Pinedale High School between Tyler and Faler Avenue: from North Street to Valley Road; and from Mill Street south to South Fremont Avenue.

Pinedale water is not metered. The Town is working through the process until ultimately water meters cab be installed so water usage is more accurately measured for actual use. In the winter, use actually increases for water volume because residents are instructed to run bleeders to keep their lines from freezing.

The Pinedale Town Council voted to increase the sewer and water rates by 25% in June, 2012. In-town residents pay $93 for water and $53 for sewer quarterly. Retail businesses pay $118 for water and $66 for sewer. Businesses that use more water or have more than 5 employees pay as much as $260 for water and $148 for water. A restaurant that seats under 35 people, pays $154 for water and $103 for sewer quarterly. The courthouse and schools pay the Town $781 for water and $443 for sewer. Vacation rates are 10% of the regular rate for businesses and 25% of the regular rates for all other users.

The tour was intended to residents a better understanding of the improvements made to the Town's water and sewer infrastructure. The public is invited to a public workshop discussing Town water on Thursday, July 26th.