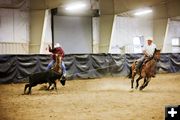 Team Roping

Photos by Tara Bolgiano, Blushing Crow Photography.

Team Roping Photo Gallery
Sublette County Fair
July 30, 2012
The 4-H/Junior Team Roping and Open Jackpot/Team Roping were held on Sunday morning, July 22, 2012 as part of the Sublette County Fair.

Open/Jackpot Team Roping
The 1st Roping, #13 was 4 head for $100 per man. Competitors could enter three times. It was capped at 75 teams. Winnings were: 1st Place$1,740 per man; 2nd Place $1,440 per man; 3rd Place $1,140 per man; 4th Place $840 per man; 5th Place $540 per man; 6th Place $300 per man.

2nd Roping
#10, 3 head for $30 per man. Contestants could enter all they want, pick their partners only no draw. Buckles went to average winners.

3rd Roping
5 hea draw pot for $125 per man. Contestants drew 5 partners. Best of 5 head won a handmade Fandek Roping Saddle. 2nd and 3rd Place received cash and Dale Chavez Buckles. 4th through 8th Place won cash.

Cattle was provided by 351 Productions.

Photos by Tara Bolgiano, Blushing Crow Photography. Click on this link for and information on how to order picture reprints: www.blushingcrow.com.