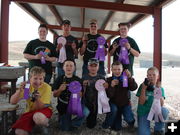 4-H County Muzzleloading shoot

Back row: Anna Johnson, Dalin Hughes, Justin Lee, Nathan Lee Front row: Ryan Keiter, Jed Johnson, Sam Johnson, Liam Hughes, Gavin Hughes

4-H County Muzzleloading shoot
July 2, 2012
The 4-H County Muzzleloading shoot was held on Friday, June 29th. The program is through the University of Wyoming Extension/Sublette County office. Group Leader is Jim Johnson.

Senior Division
1st place Justin Lee 244
2nd place Dalin Hughes 197
3rd place Anna Johnson 173

Intermediate Division
1st place Nathan Lee 214
2nd place Jed Johnson 203
3rd place Ryan Keiter 174

Junior Division
1st place Sam Johnson 170
2nd place Gavin Hughes 85
3rd place Liam Hughes 46

Photos courtesy Robin Schamber.