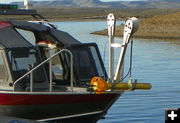 Side-scan sonar

A towed side-scan sonar array mounted on the bow of the Tip Top Rescue boat. Side-scan sonar was instrumental in locating the remains recovered from Flaming Gorge. Photo courtesy Sweetwater County Sheriff's Office.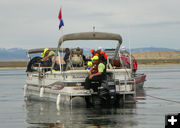 Preparing for dive

Divers from the Sweetwater Dive Team and Tip Top Rescue preparing for Tuesday's recovery dive. Photo courtesy Sweetwater County Sheriff's Office.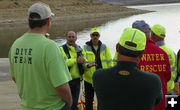 Briefing

Dive team leader Jack Weimer of the Sweetwater Dive Team (at center without cap) briefs divers and dive support personnel prior to Tuesday's recovery operation. Photo courtesy Sweetwater County Sheriff's Office.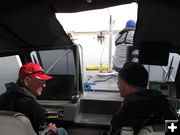 On the water at recovery scene

John Linn and Shawn Streeter in the boat at the scene of the recovery. In the picture you can see Tip Top's side scan sonar, which is the yellow torpedo looking device in the cradle on the front of the boat. Photo courtesy Tip Top Search and Rescue.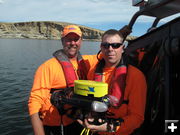 ROV robot

John Kochever and Shawn Streeter holding up the ROV robot that has been used extensively to confirm images from the side scan sonar and then video the scene. The ROV has also been used to recover several bodies. Photo courtesy Tip Top Search and Rescue.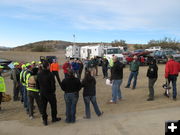 Incident Command Post

The Incident Command Post and the briefing the morning of the recovery. Photo courtesy Tip Top Search and Rescue.


Tip Top Search & Rescue assists with recovery of drowned fisherman in Flaming Gorge
Man who fell out of boat 15 years ago finally recovered with help of advanced technology
by Sweetwater County Sheriff's Office and Tip Top Search & Rescue
Original post June 13, 2012 | Updated June 18, 2012

SWEETWATER SHERIFF'S OFFICE, JUNE 13, 2012 - ROCK SPRINGS, WYOMING
The remains believed to be those of a Green River man who drowned in Flaming Gorge 15 years ago were recovered Tuesday morning (June 12, 2012).

The recovery operation and the case's background were described in a joint release issued Tuesday by Sweetwater County Undersheriff Craig Jackson and County Coroner Dale Majhanovich.

On May 4, 1997, Richard D. Herren, 43, of Green River, fell out of a boat in the Holmes Crossing area of Flaming Gorge, known then as Squaw Hollow. In the boat with Herren were his wife, Mary Herren, and Dan Lindholn, a family friend.

Conditions on the lake that day and during the course of the subsequent search for Herren were rough, and searchers' efforts were unsuccessful.

About six weeks ago, on April 28, a team from Ralston & Associates of Kuna, Idaho, utilizing a specially-equipped boat and advanced side-scan sonar, plus a pair of special cadaver dogs and their handlers from Illinois, located the body believed to be Herren's about 3/4s of a mile from the Holmes Crossing boat ramp at a depth of about 130 feet.

The Sheriff's Office and County Emergency Management began planning and preparation for a June recovery. Of particular concern was the lake's depth at the body's location, as deep diving at Wyoming's altitude can be very dangerous.

Participating in the recovery were divers and support staff from the Sweetwater Dive Team and Tip Top Rescue of Pinedale, in addition to personnel from the Sweetwater County Sheriff's Office, Sweetwater County Emergency Management, the Wyoming Game & Fish Department, the U.S. Forest Service, the Sweetwater County Coroner's Office, and Castle Rock Ambulance Service.

Recovery craft were on the water by 8:00 AM and the operation was completed about two hours later.

All told, some 30 people took part in the operation.

Majhanovich said a routine autopsy is scheduled for Wednesday (June 13, 2012) in Loveland, Colorado.
__________________________________________

TIP TOP SEARCH & RESCUE, JUNE 18, 2012 - SUBLETTE COUNTY, WYOMING
On May 1, 2012 Tip Top Search & Rescue (SAR) participated in a search regarding an unresolved drowning that took place in the Holmes Crossing area of Flaming Gorge Reservoir on May 4, 1997.

The family of Rick Herren, of Green River, had contacted Gene and Sandy Ralston of Idaho after seeing a documentary on their Side Scan Sonar work that the couple had done around the world. The family wanted Gene and Sandy to look for their relative (Rick) who fell into the reservoir and disappeared on May 4, 1997 while reaching for his hat from a boat.

Gene contacted John Linn of Tip Top SAR to get information about the original search, as he and Scott Mackie had spent several days doing camera search work in 1997. Conversations transformed this effort into an opportunity for a joint training mission.

Sublette County and Sweetwater County Sheriff departments and the SAR groups have a great cross-county relationship and this opportunity was another chance to expand on previous trainings. It was agreed to combine resources to reopen the search on May 1.

Considerable information about the search was available, along with cooperation from Linda Herren who witnessed the accident in 1997. Linda agreed to help by going out on the water with the SAR group and marking the point where she believed she last saw Rick Herren. John Linn had marked the place where Linda thought Rick went into the water in 1997 and still had the GPS coordinates from the original search. It was interesting that she put the scene in relatively the same place 15 years later.

Once the search area was defined, the Rolston Side Scan Sonar was deployed and Rick was located within 8 minutes, just 75 feet from where Linda had placed the mark. John Linn deployed Tip Top's underwater ROV and confirmed the presence of a body an hour later.

The body was located in 140' of water and the visibility was about 5'. A recovery mission was planned and conducted on June 11-12, 2012 involving Tip Top SAR (John Linn, Shawn Streeter and John Kochchever), the Sweetwater County Dive team, Rolton and Assoc, Sweetwater County Sheriff's Office and Emergency Management, US Forest Service, Wyoming Game & Fish, and Castle Rock EMS.

This was a very technical and dangerous dive, but it all turned out well and everyone came home safe due to a well-planned and disciplined operation.

Tip Top SAR's new technology and equipment were instrumental in solving this case, as well as the 2007 recovery of three drowning victims from December 31, 1995 in the same general area of the Flaming Gorge.