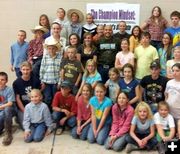 Livestock Workshop

Big Group Livestock Workshop shows Erica David who organized and taught the event, Travis Brown aka Mr Mojo who was a guest speaker for youth about positive thinking, setting smart goals, leadership, and many of the youth attending the event. Photos by Liz David.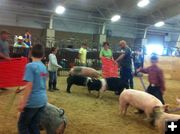 Pig Work

Participants practicing with their pigs and teaching Mr. Mojo about pigs.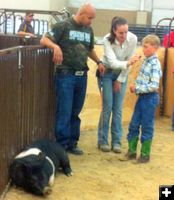 Working with Travis

Erica David with Travis Brown discussing pig showmanship strategies with Palmer Klaren.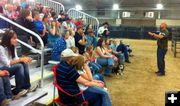 Mr Mojo

Travis Brown aka Mr Mojo speaking to the youth and adult audience on the theme "Success is Your Choice"


4H and FFA Prepare for Fair and More with the Champion Mind Set Workshop
by Liz David
June 23, 2012

The Fairgrounds Livestock Barn filled with over fifty kids, and their parents, pigs, goats, and lambs last month for a three-day workshop to teach livestock showmanship and youth leadership. This event, "The Champion Mindset Ultimate Showmanship Boot Camp" was put on by Erica David, featuring guest speaker Travis Brown aka Mr. Mojo, and co-sponsored by Sublette County 4H, and the generosity of local businesses.

According to Erica, "the benefits of involving youth in raising and showing livestock are undeniable, as anyone who has been involved in the stock show world for long can tell you. From leadership, to work ethic and responsibility, to confidence, and management skills, young people are given powerful life tools, all while developing friendships and memories that will last a lifetime." The workshop program focused on the questions: "What takes a showman/youth from just involvement to achievement, from simply being present to being a champion? What is the vital life skill that our youth will carry with them as they transition from todayís competitors to tomorrowís leaders in agriculture, industry, and in life? Do you approach your project as a task and a chore, or do you compete with a passionate and energized mindset Ė a Championís Mindset?

The tightly packed schedule rotated the two groups, pig kids and sheep/goat kids, between arena ring work for groups and private lessons with their animals, and classroom learning settings. Over 40 participants hailed from Sublette County, with 8 additional from other parts of Wyoming.

During ring work instruction, Erica focused on teaching the kids the progressive steps of training and showing their animals, all intertwined with themes of the Champion Mind Set, and Travisís Success is Your Choice. Sessions included "Begin with Basics, Set Your Goals, Supercharge Your Training, Ring work Drills and Patterns, Mini-Shows, and Making Your First Impression." She built private lessons into early mornings, lunch breaks, and well into the evening, working with individuals specific to their needs and goals. Erica met with the parent group in a discussion session about positively supporting their youth, staying well-nourished during the stress of showing.

In the "barn classroom", participants worked with 4H instructors on topics to complement learning about their animals. The kids learned about grooming and clipping, structure and soundness of their animals, meat cuts, breeds, identification ear notches on pigs, purposes of tags on sheep and goats, and discussed current issues in the livestock industry.

A highlight feature of the rotating sessions was the two day visit of Travis Brown, aka Mr. Mojo, a nationally well-known motivational instructor for youth, featured on CNN, CBS, NBC, FOX and USA Today. Mr. Mojo has travelled nation-wide delivering his messages of positive thinking, how to fail forward, and success as your own choice. Travisís work sessions in Sublette County with small groups included "Developing Your Core, Positive Affirmations, Being Good Enough, SMART Goal Setting, and the Value of a Hundred Dollar Bill!" Travis built on Ericaís themes of Making First Impressions and having the Mind Set of a Champion with practice in communication, eye contact, standing up and speaking, and being positive about themselves. Kids thought about their best characteristics, changes they wanted to make, and learned to "Mojo Up" during tough moments!

Friday evening Travis presented to the entire group, kids, parents, and visiting families on the theme of "Success in Your Choice". Travis told the story of his beginnings, what brought him to his changes, and how he now works to inspire todayís youth with motivation, strategies, and real tools for bringing about successful changes in their own lives. Adults and youth alike were enthused by the presentation, as confirmed by a parent who said, "Iíve heard many motivational goal setting trainers, but Mr. Mojoís will be one Iíll definitely remember!"

Erica said, "The community support of our youth, and Travisís personal generosity allowed us to put on this program as part of our youth livestock workshop. It was amazing to be able to teach youth the mix of showing animals, communication, positive outlooks, and their potential for leadership as lifetime skill, all through their livestock projects. Thank you so much and Mojo Up!"

Donors to the Champion Mindset Boot Camp Workshop were, at the Platinum Level included BP Jonah, Mary Kay Jensen, PEAK Hydrate Sports Drinks; Gold Donors were Hampton Inn, Lara Nichols, Northern Title Company, and Cory Jensen Trucking; Silver Level included Rita Donham Wyoming Aero Photo, Office Outlet, WLC Engineering Brian Gray, Great Outdoor Shop, American Title Company, Crossfire Ranch Supply, and Amy and Joey Graham. Bronze Donors were Creature Comforts Grooming, JAKS Salon, and All American Fuel. Delicious concessions for three days were provided by Nancy and Bob Hanson of Pioneer Smokehouse.

Photos courtesy Liz David