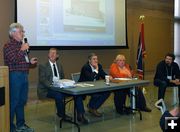 Sublette County Preservation

('Landscape Preservation at Work' in Sublette County. (L to R) Clint Gilchrist (speaking), President, Sublette County Historical Society; Butch Parks, Lands Administration Supervisor, Wyoming Game and Fish; John C. McKinley, Attorney, Davis and Cannon, LLP; Jonita Sommers, Sommers Ranch; Dave Crowley, Cultural Resource Specialist, Bureau of Land Management, Pinedale Field Office. Photo by Richard Collier, Wyoming State Parks & Cultural Resources.


Sublette County projects highlighted at Preserve Wyoming Conference
Wyoming historic preservation and Main Street annual conference held in Pinedale May 17-19
by Pinedale Online!
May 23, 2012

Preservationists from around the state gathered for the annual Preserve Wyoming and Main Street Wyoming conference, held in Pinedale May 17-19th. The conference was organized by the Wyoming State Historic Preservation Office, Wyoming State Parks and Cultural Resources. The focus of this year's presentations was "Preserving Our Landscapes."

During the "Landscape Preservation At Work" session, two local projects were profiled: Case Studies of the New Fork River Crossing Historical Park and the Sommers - Grindstone Ranch and Sommers Homestead Conservation Easements.

The Lander Trail-New Fork River Crossing is a new 82-acre historical park being developed by the Sublette County Historical Society (SCHS). It is located where the Lander Trail crosses the New Fork River, just north of Hwy 351. The property was acquired and given to the SCHS as part of a mitigation agreement between Shell and Ultra natural gas companies, PacificCorp, and the Bureau of Land Management for impacts to the Lander Trail in the Pinedale Anticline. It will open to the public in the summer of 2013. The Sommers-Grindstone Ranches Conservation Easements placed 19,000 acres into permanent agricultural conservation and included an easement to the SCHS for 1-1/2 acres of the original 100-year old homestead to create a living history site that will be open to the public for educational purposes.

Jonita Sommers and the Sublette County Historical Society received Historic Preservation awards at the awards ceremony. Also recognized at the awards banquet, by the Wyoming District Office of the U.S. Small Business Administration, were Lee and Tammy Swenson, Rapid Wire LLC of Cora as Small Business Person of the Year; and Bill Kleven, Market Chairman, Pinedale and Rock Springs, Rocky Mountain Bank, Pinedale, Wyoming as Region VIII Financial Services Champion of the Year for Wyoming.




Related Links