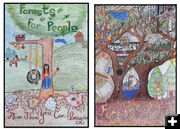 Poster contest winners

Left: Teerstyn Johnson's poster. (Grades 7-9th 1st Place at State Level). Right: Joshua Eaton's poster (Grades 10-12th, 2nd Place at Nationals, 1st Place at State Level)


Winners announced for 2011 NACD poster contest
Teerstyn Johnson and Joshua Eaton of Pinedale win titles
by Sublette County Conservation District
April 12, 2012

Sublette County Conservation District is proud to annouce Teerstyn Johnson and Joshua Eaton, of Pinedale for winning state and national titles for their art work in the 2011 National Association of Conservation Districts (NACD) poster contest. The poster contest highlights the educational outreach efforts of conservation districts and their state conservation associations, auxiliaries and agencies. The contest is part of NACD Stewardship Week, the longest running celebration of conservation in the country.

This year's theme was "Forest for People: More Than You Can Imagine." Whether or not you live near one, we all have a connection to the forest. Trees provide wood and furniture for our homes, cork for the center of our baseballs, and serve as recreational areas to hike and watch birds and other wildlife. We can also thank trees for helping to clean the air we breathe. Trees play an important role in providing us with the food and fiber on which we rely on every day, and farmers take great care in managing our forest so that we can reap the benefits for generations to come.

Teerstyn Johnson in the 7th-9th grade division won 1st place at the state level. Joshua Eaton in the 10th-12th grade division received 1st place at the state level and 2nd place at the National contest.

To see other national poster winners, follow this link: http://www.nacdnet.org/education/contests/poster/2011/index.phtml

The 2012 poster contest theme is "Soil to Spoon: Where does your food come from". If you are an educator, homeschooler , librarian or parent consider helping your 7th-12th grade student(s)in entering the "Soil to Spoon" poster contest. You can find rules at http://www.nacdnet.org/education/contests/poster/2012/index.html or contact the Sublette County Conservation District 307-367-2257.