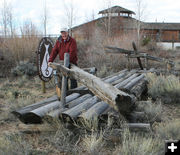 Monte Skinner

Monte is working with the Sublette County Historical Society for the raft display and sign.

Seeking photos of Skinner Brothers' Green River Camp
Pictures of rafting down the Green River
April 14, 2012
The Sublette County Historical Society (SCHS) is working with Monte Skinner to create a sign for the Skinner Brothers' log raft display on the grounds of the Museum of the Mountain Man in Pinedale. The old "Queen of the Green" was retrieved several years ago and is being made into a display. The SCHS is looking for high resolution photos of how the rats were made and floating down the river.

Any documentation of what is in the photo and identification of any people in the picture would be greatly appreciated – be sure to let us know who gets photo credit for taking the picture. If scanning photos, please scan as high a resolution as possible. The photos will be enlarged and need to be as high quality as possible. Please also provide your contact information in case the SCHS needs to contact you for questions. Please email high resolution photos to dawn@pinedaleonline.com. If sending hard copies of pictures or slides, please send to Dawn Ballou, PO Box 2250, Pinedale, WY 82941. If you provide a return mailing address, the photos can be returned. All donated photos not designated to be returned will become part of the collection for the Skinner Brothers exhibit at the Sublette County Historical Society in Pinedale.

The Skinner Brothers Wilderness School operated for 50 years near Pinedale, Wyoming. It was founded in 1956 by Monte, Bob, Courtney and Ole Skinner. Four of six sons of legendary mountain guide Clem Skinner. Skinner Brothers operated at their camp at Burnt Lake for 50 years. There were three main 'sessions' taught at Skinner Brothers: The Wilderness Session, the Leadership Session and the Open Session. The Skinner brothers trained thousands of young people in horse packing, mountaineering, wilderness survival and, most importantly, life skills. The rafting adventure down the Green River was part of the Wilderness and Leadership sessions. The youth built the rafts themselves and braved the white water of the Green River. Over the years, the Skinner Brothers' Wilderness Camps taught thousands of youth valuable outdoor and life skills.