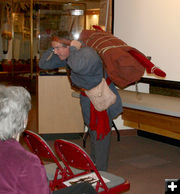 Tump Line

Guest speaker, Scott Walker, demonstrates a tump line, used to help carry heavy loads when livestock pack animals were not available.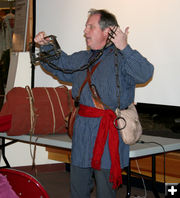 Beaver trap

Scott Walker shows a beaver trap similar to ones that were used by the Astorians in 1812.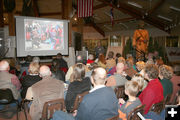 2012 Spring Thaw

The Sublette County Historical Society and Museum of the Mountain Man had a full house turnout for their 2012 Spring Thaw Party on March 8th.





Museum of the Mountain Man
Sublette County Historical Society Inc
PO Box 909, 700 E Hennick, Pinedale, WY 82941
Toll-Free: 1-877-686-6266
307-367-4101




Sublette Historical Society looks forward to busy year
by Dawn Ballou, Pinedale Online!
March 9, 2012

The Sublette County Historical Society and Museum of the Mountain Man held their Annual Meeting & Spring Thaw Party on Thursday, March 8, at the Museum of the Mountain Man in Pinedale.

The annual event is an opportunity for historical society members to get an update on what the organization has done in the past year and hear the planned events and activities for the new year. The organization also elects their new officers to their Board of Directors. Incoming board members elected at the meeting for 2012 are Julie Early and Jim Mitchell. Officers reelected into their positions on the Sublette County Historical Society Board of Directors were James Thomas, Treasurer; Sam Drucker, Vice-President; and Clint Gilchrist as President.

Treasurer James Thomas reported that the historical society has no debts and no loans. In 2011, their endowment increased from $1.3 million to $1.4 million. Despite a decrease in visitation from 2010 to 2011 from 10,000 visitors to 9,000, their gift shop sales were up 1%. A big expense for the institution in 2012 will be $23,000 to replace a failed heating system.

President Clint Gilchrist gave a slide show presentation showcasing highlights of the 2011 season. He said the annual spring Living History Days program has grown considerably, attracting schools bringing students from around western Wyoming and neighboring states. More than 1,200 students came to the Museum of the Mountain Man over the 3 days of the program, which features members of the American Mountain Men association demonstrating the lifestyle of the men who lived and worked in the Rocky Mountain fur trade industry between 1824 and 1840. Gilchrist said the new Sommers Ranch Homestead Living History project will open to the public in the spring of 2012, with the Grand Opening in September. The new 82-acre Lander Trail-New Fork River Crossing historical park is still being developed, with expertise being contributed by the National Park Service for trail placement and interpretation. The park will partially open in 2012 while still under development. The Society also is now in the 5th year of publishing their academic journal, The Rocky Mountain Fur Trade Journal. The Journal has a circulation of over 1000 and the first three editions have completely sold out.

Special guest speaker for the night was Scott Walker, giving a talk on "Introducing Robert Stuart and the Astorians, 1812: A Journey Through The Green River Valley." The program launched the summer-long educational effort to make the public aware of the 200th anniversary of the 2012 cross-country journey and expedition led by Robert Stuart bringing the Astorian party back from the Pacific Coast to the Atlantic. Their journey took the group through Sublette County and Pinedale. The Museum of the Mountain Man and Pinedale will be hosting the 2012 Fur Trade Symposium in September which will focus on the Astorians. That conference is expected to bring several hundred people to Pinedale. Walker will return for the conference to give a special program. Click on this link for details on the conference and speakers, and registration information: 2012 Fur Trade Symposium – Sept. 5-8, 2012

The Spring Thaw Party was co-sponsored by First American Title Company.

2012 Upcoming events:
May 1-September 30: Museum opens for the season
Open daily from 9AM to 5PM.
Sublette County residents get in for free

May 15-17: Living History Days with the American Mountain Men

July 12-15: Green River Rendezvous Days and Journal Forum

September 5-8: 2012 National Fur Trade Symposium at the Museum of the Mountain Man

October 1-31: Fall gallery hours, Monday - Friday 9AM-4PM

November 1: Museum closes for the season

December 7: 19th Annual Wreath & Chocolate Auction