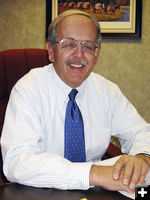 Jim Magagna

Wyoming Stock Growers Association (WSGA) Executive Vice President Jim Magagna


Stock Grower testifies in support of Sen. Barrasso's grazing act
by Wyoming Stock Growers Association
March 25, 2012

WASHINGTON, DC – Wyoming Stock Growers Association (WSGA) Executive Vice President Jim Magagna testified Thursday before the Public Lands and Forests Subcommittee of the Senate Committee on Energy and Natural Resources in support of S. 1129 Grazing Improvement Act of 2011, which was introduced by Wyoming Senator John Barrasso.

The bill would amend the Federal Land Policy and Management Act of 1976 to improve the management of grazing leases and permits.

Magagna spoke as a representative of WSGA and the Public Lands Council (PLC).

"The public land livestock industry seeks and supports the legislative changes incorporated into S. 1129 for one primary reason—they are essential steps in restoring a stable business environment to our industry," Magagna said.

"Livestock grazing represents the earliest use of federally managed lands as our nation expanded westward. Today it continues to represent a multiple use essential to the livestock industry, wildlife habitat, open space and the rural economies of many western communities."

WSGA has nearly 1,300 members, of which over 50 percent graze livestock on Bureau of Land Management (BLM) or U.S. Forest Service lands and nationally more than 22,000 families rely on public lands grazing to maintain their ranching operations. Forty percent of beef cattle in the West and half of the nation's sheep spend some time on federal lands.

"Without public land grazing, the ability to graze significant portions of state and private lands would necessarily cease, and the cattle and sheep industries would be dramatically downsized, threatening infrastructure and the entire market structure," Magagna said.

Continuation of grazing on public lands is also essential to maintaining the integrity of landscapes in the West. Much of the land in the West is a mosaic of public and private land and a majority of ranching operations in these areas are not economically viable without access to forage on public lands. Without ranches to maintain them, much of the private land would be susceptible to rural subdivisions, resulting in loss of wildlife habitat, open space and scenic vistas and public access.

"Keeping ranchers in business is good policy for conservation of both private and public land," Magagna said.

The Grazing Improvement Act of 2011 will directly address many public grazing problems livestock producers, range health and land agencies face.

The bill will extend term permits to 20 years, creating a longer-term approach to the permitting of public lands grazing, while retaining each agency's ability to make needed management adjustments annually. The change will bring needed certainty, improved range management and make the overburdened land agency work load more manageable.

"Over the past 40 years, livestock have become recognized as an important tool for rangeland management on both public and private lands. While appropriate levels of utilization remain important, timing and intensity of grazing have become key management tools," Magagna said.

Sophisticated analytical systems, such as the State and Transition Model embraced in recent years by the Bureau of Land Management (BLM) and Forest Service, allow livestock grazing to be utilized to bring about significant changes in forage composition over long periods of time.

"These approaches demand a long-term commitment to a grazing system," Magagna said.

The Grazing Improvement Act of 2011 creates added certainty for livestock producers by eliminating the requirement for additional environmental analysis if a permit is renewed, reissued or transferred and grazing management does not change. Taking this step reduces an unnecessary burden on permit holders and allows agency personnel to be more thorough when analyzing actions impacting the resource.

"These changes will also help reduce the opportunity for litigation by extreme anti-grazing groups who, by virtue of fee-shifting statutes such as the Equal Access to Justice Act, have made a cottage industry out of process-based litigation, draining agency budgets and reaping taxpayer dollars to the tune of hundreds of thousands, annually," Magagna said.

Additional changes stipulated by the Grazing Improvement Act of 2011 will help assure the stability of individual ranching operations. The bill requires all appeals of grazing permit decisions be conducted "on the record" in accordance with the fundamental principles of the Administrative Procedures Act (APA).

"Strict adherence to the APA will place the burden of proof on agencies to show their decisions are correct in law and in fact," Magagna said. "This will assure the decision is suspended and current grazing is allowed to continue until the appeal is resolved."

The bill also includes an exception where failure to implement the decision would result in an immediate deterioration of the resource.

During his testimony in support of the bill, Magagna emphatically urged the committee to support S. 1129.

"The results of this legislation will include greater stability for more than 22,000 families dependent on public land grazing, a renewed focus on long-term resource management, enhanced agency efficiency and continuation of the broad public benefits provided by both public and private lands in the West," Magagna said.

Representatives of the Forest Service and BLM also testified on the legislation. The Forest Service expressed support for the concept of the legislation and committed to working with the Subcommittee on specific language concerns.
________________________________________________

About the Wyoming Stock Growers Association
Since 1872, the Wyoming Stock Growers Association has served the livestock business and families of Wyoming by protecting their economic, legislative, regulatory, judicial, environmental, custom and cultural interests. We promote the role of the cattle industry in resource stewardship, animal care and the production of high-quality, safe and nutritious beef. Learn more at www.wysga.org or call 307-638-3942.