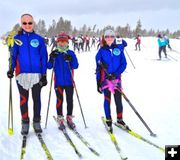 In West Yellowstone

Left to Right: Elizabeth Chambers, Oliver Chambers, and Zoe Noble in West Yellowstone. Photo courtesy Bonnie Chambers.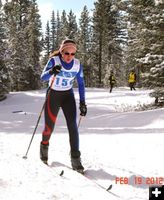 Elizabeth Chambers

Elizabeth Chambers skiing the 3K Classic in Bozeman. Photo courtesy Bonnie Chambers.


Pinedale Jr. Nordic Ski program travels in Montana
by Bonnie Chambers
March 11, 2012

The Western States Youth Ski Festival is hosted in a different state every year, and this year the Pinedale Junior Nordic Ski Program traveled to Bozeman Montana over Presidents Day weekend to join in the festivities along with groups from seven different states. Activities included 1K, 2K, and 3K races for both Freestyle and Classic, the ever popular Obstacle Course, and a Downhill Slalom complete with jumps, gates, and an uphill sprint. Zoe Noble took home a 2nd place medal for the 2K Classic, and Zane Dietlin, new to Nordic skiing this year, competed for the first time in the 3K Classic, 3K Freestyle, and the Obstacle Course. The coaches entertained the crowd with their antics in the Downhill elimination rounds. Coach Tony Chambers impressed his young skiers by placing second.

The group traveled to one final race of the season, which was held in West Yellowstone Montana on March 4th. This was the 33rd year for the annual Yellowstone Rendezvous Race, capped off at 1,000 participants skiing 2K, 5K, 10K, 25K or 50K and ages ranging from 5 to 85! Our skiers performed well in these mass-start races, despite inches of fresh snow on the trails, blustering winds and falling snow for race day. Our young racers worked hard all season, and it paid off, as they all placed better than they placed last year at this event. Awesome!

Oliver Chambers, who raced 2K last year, was the only 9-year-old 5K Freestyle skier, and he placed 8th in the Boys 9-11 year old category with a time of 29:59. Zoe Noble (age 11) took home a silver medal for 2nd place in Girls 9-11 with a time of 26:57. Elizabeth Chambers (age 12) took home a bronze medal for 3rd in Girls 12-13 with a time of 27:13. Coach Tony Chambers competed in the 25K Classic along with 83 other skiers. He also improved his time and placement taking home a silver medal for 2nd place in his age group with a time of 1.53:16.

A heart-felt thank you goes to the Sublette County Recreation Board for their continued support. Contact Tony Chambers at 307-360-8850 for more information about this program, which will start the 2012-13 early in December for kids in Middle School or High School.

The Nordic skiing race season may be over, but the best skiing is here and now in Sublette County. Who can resist such great snow and excellent trail grooming? "Ski for Fun! Ski for Life!"