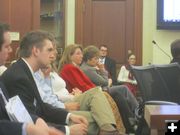 Redistricting

Sublette County Clerk, Mary Lankford (center, in red top), attended the House Corporations & Political Subdivisions Hearing on Redistricting on Tuesday, February 14th. The redistricting went through without change from the work Mary Lankford did regarding Sublette County interests. HB 32, Redistricting passed the House today with little substantive opposition on Wednesday, February 15th. Photo by Bill Winney.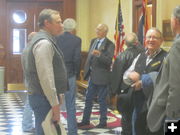 Sublette County reps

Sublette County Commissioner, Joel Bousman (center), was at the Legislature in Cheyenne on behalf of Sublette County. Photo by Bill Winney.



Committee presentation

The Joint Travel, Recreation, Wildlife, & Cultural Resources Committee made an informational presentation on wolves and pending legislation. Photo by Bill Winney.