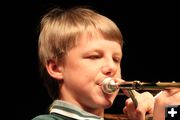 David Rule

David Rule (trombone) received an Outstanding Solo Award.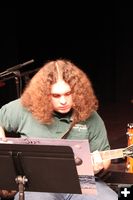 Garrett George

Garrett George (guitar) received an Outstanding Solo Award.


Pinedale Jazz Band attends Kinser Jazz Festival at Casper College
by Sublette County School District #1
February 13, 2012

Wednesday, February 8th the Pinedale Jazz Band traveled to Casper College to participate in the 45th annual Kinser Jazz Festival. The band performed three tunes for their judges and were rated on their performances both individually and as a group.

The jazz band was adjudicated by Peter Ellingson who is an instructor of music performance at University of Colorado Denver. He has also worked as a freelance pianist and percussionist all over the nation. He worked with the Pinedale band for about 10 minutes after they performed their songs. The other judge was Art Bouton who is an associate professor of saxophone and the chair of the Woodwind Department at the University of Denver's Lamont School of Music. He is a first call saxophonist throughout the western United States. Mr. Bouton has served on the faculty of many jazz camps and is on the faculty of the Yellowstone Jazz Camp of which many of our Pinedale students have attended. He worked on stage with the Pinedale band for about 30 minutes perfecting and improving their jazz techniques. The Pinedale Jazz Band received ratings of a I (like an A) and a II+ (like a B+) from their judges. Garrett George (guitar) and David Rule (trombone) were singled out for Outstanding Solo Awards.

A big thank you goes out to Ryan Ptasnik who filled in at drums when our drummer, Jared Attanasio, could not make the trip. He stepped in and made it possible for us to participate in the festival. Only a few months ago both Mr. Sheppard and Ryan did not think they would ever be traveling to a jazz festival on a school bus again. It was a pleasure to have him with and lending us his jazz expertise. Also a big thank you goes out to our bus driver Gary Bingham who guided us safely down the road on a very long day.

The Pinedale jazz group did a fine job representing our community and school at this festival. There were over 70 groups attending this festival this year from all over the state.

This group will continue participating at various festivals and concerts throughout the Rocky Mountain region beginning with a performance at the Senior Winter Games Banquet Feb. 18th, competing at District Festival April 19 in Mt. View, then performing their home Spring Jazz Concert April 24th, followed by a performance at the PAC Summer Fest May 2nd and finishing up with the Senior Fundraiser Dinner May 3rd.

Jazz Band I performers at this festival were Kodee Williams, Hayden Fish, Kelli Terrell, Jake Hathaway, Bekah Knapp, Tom Mitchell, David Rule, Will Nelson, Kassidy Williams, Caitlin Tan, Gus Holz, Ali Wadsworth, Taner Trujillo, Steven Winer, Abby Nelson and Garrett George, The jazz band is under the direction of R. Craig Sheppard.