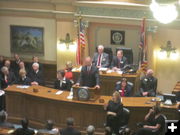 Governor Matt Mead

Gov. Mead addressing the legislature on State of the State. Photo by Bill Winney.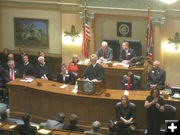 State of the Judiciary

Marilyn Kite, Chief Justice of the Wyoming Supreme Court on the State of the Judiciary. Photo by Bill Winney.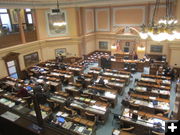 Wyoming Legislature

Floor of the House before opening... busy, busy, busy! Photo by Bill Winney.


Hedonic Wage Index Bill HB-47 fails introduction
by Pinedale Online!
February 13, 2012

Bill Winney sent in a report that the Hedonic Wage Index Bill HB-47 failed introduction at the Wyoming State Legislature in Cheyenne on Monday, February 13th. "This bill failed introduction, so it's probably dead & gone for the session," Bill Winney said. "Speaker Pro Tem Keith Gingery and Chairman Pete Illoway, Corporations Committee, spoke strongly against its introduction. It failed on a 30-30 tie vote." (Illoway is co-chairman of the interim Joint Corporations, Elections and Political Subdivisions Committee).

Winney reports that Wyoming Governor Mead addressed the legislature on State of the State. He noted that Wyoming is not an island and must look beyond our borders. He spoke on education. He noted that education must span beyond the political process. He wants a K-12 system that is second to none in this nation. He supports non-traditional schools and accountability. Finally, he supports the core curriculum process noting that he sees no reason to allow the federal government to tell us what to do in education, but that there are great benefits to our young people with a core curriculum. He also spoke on the wolves issue and how to go forward within the Federal process and sees good opportunity to prevail. Lastly, he spoke on energy development and emphasized protection of our environment.

Photos: Opening day of the 61st Legislature's Budget Session. Photos by Bill Winney taken on Monday, Feb. 13, 2012 in Cheyenne, Wyoming.