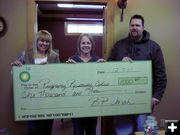 BP donation

(Left to Right): Deena Christiansen (BP), Melissa Andersen (CEO/Executive Director of the Pregnancy Resource Center), Robert Lenz (BP). Photo courtesy Pregnancy Resource Center.


BP America makes a surprise donation to Pregnancy Resource Center
Supporting the local community
by Pregnancy Resource Center
February 1, 2012

BP America donated $1,000 to the Pregnancy Resource Center (PRC) last December to help fund the Client Services Program. The money came from the BP Jonah Contribution Committee Fund, which is used to support local giving in the community.

"Robert Lenz of BP America called our office and said he had a check for us," said Melissa Andersen, PRC Executive Director. "You can imagine my surprise! It was wonderful to receive such a generous donation at the end of the year."

The PRC offers free pregnancy and parenting classes to all its clients. Topics include: prenatal development, infant care, nutrition, positive discipline and more. This year, the PRC will expand their curriculum to include SIDS (Sudden Infant Death Syndrome) education and prevention.

Clients who participate in the program can earn valuable items such as infant car seats, portable cribs, diapers, and formula.

Any individual or couple experiencing a pregnancy, whether first time or existing parents, are eligible to participate in classes through the Client Services Program. "Thanks in part to BP America, we will continue to offer our services to women throughout the county," said Andersen.

For more information on the Client Services Program of the Pregnancy Resource Center, contact Misty Fish, Client Services Director at 307-367-7077 or visit www.pinedaleprc.com.