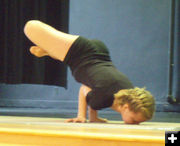 Ryann Swift

Ryann Swift in Lotus in Peacock. Photo by Serese Kudar.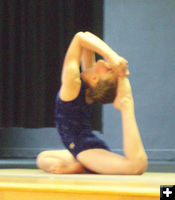 Katie Wyckoff

Katie Wyckoff in King Pigeon. Photo by Serese Kudar.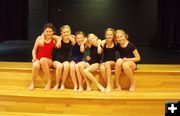 Regional Champions

2012 Yoga Asana Regional Champions – Youth Division: Bailey Schupp, Jamie Rellstab, Katie Wyckoff, Baylee White, Magen Rohrer, Ryann Swift

2012 Yoga Asana Cup fundraiser demonstration Feb 9
February 6, 2012
Wind River Yoga is proud to present the 2012 Yoga Asana Cup Fundraiser Demonstration on Thursday, February 9, 2012 in the Lovatt Room of the Sublette Library from 4:00pm – 7:00 pm. The event is a fundraiser to raise travel expenses for students Magen Roher, Ryann Swift, and Katie Wyckoff to compete in the Yoga Asana Nationals in Manhatten, New York, March 2-5, 2012. Wind River Yoga's Darcie Peck will showcase her Yoga Motion Program's (ages 4+) talent for the growing sport of USA YOGA. Asana Cup competitors will demonstrate their Regional and Nationals performance at 6:00 pm. Light refreshments will be served and at-will donations can be accepted at the door.

On January 21, 2012, Darcie Peck of Wind River Yoga in Pinedale, took six girls to compete in the Regionals Yoga Asana Championship in Salt Lake City, Utah - Ryann Swift, Katie Wyckoff, Magen Rohrer, Jamie Relstab, Bailey Schupp and Baylee White.

Three of the Pinedale girls placed top three and qualified for Nationals. These six girls, 11/12years old from Pinedale, represented the whole state of Wyoming:
Ryann Swift (1st)
Katie Wyckoff (2nd)
Magen Rohrer (3rd)

Darcy Peck has been teaching most of the girls who competed through her Yoga Motion Youth Program. This competition entailed five mandatory poses and two optional poses. All poses showed the child's talent in flexibility, strength, poise, grace and stamina/endurance. The routine had to be completed in under three minutes. There were four judges and about 200 spectators.

The first three qualify for Nationals, March 3 & 4 in Manhattan, New York at the Hudson Theater.

In order for the group to travel and compete in this event, they are seeking donations to help these girls with travel expenses. The 2012 Yoga Asana Cup Fundraiser Demonstration will be held on Thursday, February 9, 2012 in the Lovatt Room of the Sublette Library from 4:00pm – 7:00 pm.

Raffle tickets, $20 each, will be sold for prizes at the door or at Wind River Yoga and the Pinedale Chamber of Commerce. There will be food, fun, refreshments and live music.

Donations to help the girls for their trip may be sent to:
Darcie Peck
PO BOX 1008
Pinedale, WY 82941

USA Yoga is a non-profit organization formed for the purpose of developing and promoting Yoga Asana (yoga postures) as a sport. Yoga Asana competitions originated in India hundreds of years ago and are still being conducted there today. USA Yoga is now bringing this spirit of healthy competition to the United States, where, according to a recent study, more than 25 million people either practice yoga or intend to start within the next year. USA Yoga believes that the sport of Yoga Asana will inspire many of these practitioners to improve their practices and encourage many newcomers to take up the practice of yoga and the sport of Yoga Asana.

USA Yoga is developing educational programs, rules and regulations so that the necessary competitive skills can be understood and mastered by competitors, coaches, judges, administrators and yoga studio operators. Successful competitors will need to achieve mastery of physical strength, stamina, balance, flexibility, breath and concentration. These competitions are open to competitors from any yoga school or style and all are encouraged to participate. To borrow an ancient phrase, 'the paths are many, the sport is one.'

USA Yoga believes that the practice of yoga and Yoga Asana is beneficial for the physical and mental health of all practitioners - children, teens, adults and seniors. Increased awareness of the sport of Yoga Asana will encourage existing practitioners to sharpen their skills through training, dedication, and devotion to the sport, and will inspire new practitioners to begin a practice which leads to a healthier and happier life.

USA Yoga seeks to become the national governing body for the sport of Yoga Asana and has applied to the United States Olympic Committee to be recognized as such. USA Yoga's goal is to join with similar organizations in other countries to form an international yoga federation and to qualify Yoga Asana as an Olympic sport by 2016.