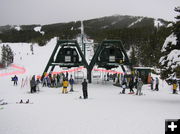 Lifts

Pinedale Online file photo


White Pine Ski Resort listed for $1.4 Million
by Pinedale Online!
January 25, 2012

Citizens to Save White Pine have listed White Pine Ski Resort for sale and are hoping to find a new owner who can reopen the local ski hill. It is listed for $1.4 million with Jay Fear Real Estate in Pinedale. The ski area is located ten miles from Pinedale

Assets for sale include the main two-story log lodge with restaurant/bar/ski shop, two ski lifts and a rope tow, two-story duplex log cabins available for rent, outfitting permits, grooming equipment, maintenance building, and complete turn-key inventory. The ski area operates under federal permits on land managed by the Bridger-Teton National Forest, so no land is included in the sale, just the business operations.

The ski area operation is under a Forest Service Special Use Permit, under a transferable lease with the Pinedale Ranger District of the Bridger-Teton National Forest. There are 25 ski runs and room for expansion. In addition to winter season ski and snowboarding activities, summer outdoor recreation includes day camps, horseback rides and mountain biking on 14 trails.

In 2010, five local Pinedale business owners invested money together to form the "Citizens to Save White Pine," a business partnership which purchased the White Pine assets and took over the Forest Service permits in order to keep the financially struggling ski area running. The group was able to staff the operations and offer a winter alpine ski season in 2010, however the ski area continued to run at a loss despite their efforts.

The Citizens appealed to the local community for financial help to keep the ski area afloat through either another private buyer coming forward or the formation of a non-profit organization purchasing facility, however that did not materialize. The group then announced in September, 2011 they would not be opening for alpine snow sports for the 2011-2012 season.

The Citizens to Save White Pine went through several meetings with the Sublette County Commissioners requesting that the County purchase the ski area from them and take over the ski area operations wholly or partially with taxpayer dollars. The Commissioners expressed their support for the ski area, however declined to purchase the operation, or provide financial support to a private business. They did express willingness to help further with financial assistance if it were to become a non-profit operation. The owners did not want to become a non-profit themselves, and hoped another organization would step in to buy them out, but that also did not happen. The owners and local community hope a new buyer will step in who has the time and money to keep the ski area operational.

For more information about the ski area, contact Jay Fear at Jay Fear Real Estate, 307-367-2494, www.JayFearRealEstate.com. The property is listed under MLS #11-2848.




Related Links