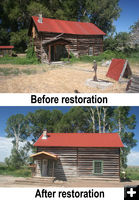 Sommers Ranch Homestead

New homestead living history interpretive site is set to open in September, 2012. It is being developed and managed cooperatively between the Sublette County Historical Society, Green River Valley Museum, and siblings Jonita and Albert Sommers.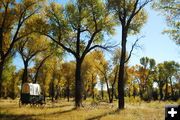 Lander Trail New Fork Park

New 82-acre historical park is located along the New Fork River. It is still under construction and is hoped to open in 2012. It is owned and managed by the Sublette County Historical Society.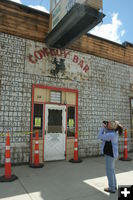 Brands at the Cowboy Bar

The historic brands were re-discovered on the outside walls of the Cowboy Bar in Pinedale during the summer of 2011.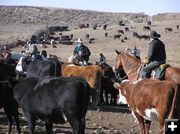 Green River Drift

Cutting grounds for the Green River Drift. Pinedale Online file photo.

Pinedale to host 2012 Preserve Wyoming conference May 18-19
Annual conference for those who preserve, promote and document Wyoming's heritage
January 3, 2012
Pinedale will be the host for the 2012 Wyoming State Historical Society Preserve Wyoming conference May 18-19th. Details are still being worked out and more information can be found at http://wyoshpo.state.wy.us or by calling 307-777-7566.

Keynote speaker will be Mitchell Silver, who will talk about the "big picture." Mitchell has held positions in both the public and private sectors, including serving as the Deputy Director in the Office of Planning in Washington, D.C.

Other topics will include downtown design guidelines, conservation/preservation easements (what they are and how they are helpful), and landscape preservation.

The Sommers Ranch and Homestead historical site, Lander Trail-New Fork River Crossing historical park, and the Boulder Schoolhouse will be highlighted on tours.

Nominations are currently being sought for the 2012 Preserve Wyoming Awards that honor those who have made significant contributions to historic preservation. Any Wyoming citizen, community/organization or project may be a potential nominee. Nominations must be postmarked to February 1, 2012 and sent to Preserve Wyoming Awards, 2301 Central Avenue, Cheyenne, WY 82002.

To assist individuals who wish to attend the conference, the Wyoming State Historical Society, in partnership with the State Historic Preservation Office, have established a conference travel stipend. Monies for the stipend are generated from the Silent Auction held every year at previous conferences. Students, WSHS members, local preservationists, and any Wyoming citizen with an interest in historic preservation is encouraged to apply. Recipients will pay their costs up-front and will be reimbursed on the last day of the conference. The stipend is to be used for hotel and food costs, in addition to conference registration. The application is competitive and an itemized list of anticipated expenses is required. Applications are due no later than April 11th in order to take advantage of the early bird discount. Applications must be sent directly to Linda Fabian, Executive Secretary, WSHS, PO Box 247, Wheatland, WY 82201. The committee will make final selections prior to the early bird deadline. The number of recipients per year is contingent on available funds and the number of applications. Forms can be found on both the SHPO and WSHS websites: http://www.wyoshpo.state.wy.us/ or www.wyshs.org, or contact Ashley Rooney at 307-777-7566 or Linda Fabian at 307-322-4237.

Make your reservations early
Block Rooms for Conference lodging in Pinedale (conference rates):
The Lodge at Pinedale, $69.95/night, 307-367-8800 – Release date May 10
Baymont Inn, $75.00/night, 307-367-8300
Best Western Pinedale Inn, $79.00, 307-367-6869 – Release date April 17
Hampton Inn, $89.00/night, 307-367-6700 – Release date May 1

Other Lodging:
Motels
Bed & Breakfasts
Guest Ranches
Cabins
Lodging Chart (PDF)

Related Links