Zoe Noble

Zoe Noble, Girls 2k Classic Race in West Yellowstone, Montana. Photos courtesy Bonnie Chambers.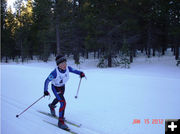 Oliver Chambers

Oliver Chambers, Boys 1k Classic Race in West Yellowstone, Montana.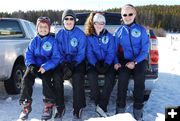 Relaxing

Relaxing before the High School's Race in Pinedale (left to right): Oliver Chambers, Clancy Rogers, Zoe Noble, and Elizabeth Chambers.


Pinedale Jr. Nordic Ski Program news
Local High School race and travels to the West Yellowstone USSA 2012 Qualifier
by Bonnie Chambers
January 22, 2012

Racers from the Pinedale Jr. Nordic Ski Program participated in Pinedale High School's Nordic race on January 6th and 7th at Surveyor Park near Pinedale and in the USSA Qualifier held in West Yellowstone Montana on January 14th and 15th. There were over 175 Wyoming skiers competing in Pinedale and over 230 skiers from Wyoming, Montana, Utah, Idaho and Alaska in West Yellowstone. While most of the region is thin on snow, both Pinedale and West Yellowstone have good conditions, and both had terrific weather for racing.

The High School High Plains Division invited young skiers from around the state to compete in their Junior High category with Boys and Girls 4k Freestyle on Friday and Boys and Girls 4-kilometer Classic on Saturday. Freestyle results were Clancy Rogers (age 13) 6th, Oliver Chambers (age 9) 13th, Zoe Noble (age 11) 5th, and Elizabeth Chambers (age 12) 10th. Classic results were Elizabeth Chambers 1st, Zoe Noble 2nd, Clancy Rogers 4th, and Oliver Chambers 8th. Great results for everyone!

The USSA Qualifier, Intermountain Division, saw stiff competition from some very strong Nordic organizations, especially within J2 (ages 14-15), J1 (ages 16-17), and OJ (ages 18-19) levels. Saturday's race was 1k Freestyle sprint heats with two heats for younger kids and top older kids competing through disqualifying heats to the final. Freestyle Sprint results are Oliver Chambers (J5) 3rd, Clancy Rogers (J3) 7th, Zoe Noble (J3) 3rd, Elizabeth Chambers (J3) 5th, Eric Kleven (J1) 32nd.

Sunday's races were Classic with 10k for Boys J1: Erik Kleven 26th at 38:01:06 minutes, 3k for both Boys and Girls J3: Clancy Rogers 14th and Elizabeth Chambers 9th, 2k Girls J4: Zoe Noble 2nd, 1k Boys J5: Oliver Chambers 1st. Way to go Pinedale Jr Nordic!

At the end of this month, these young racers will travel to Soldier Hollow in Utah for their next competition, while continuing to ski with the rest of the program's skiers through early March. Who can resist Sublette County's excellent Nordic trails and fine grooming?

Contact Tony Chambers at 307-360-8850 or Jason Ray at 307-360-6927 for more information about this program.

Photos courtesy Bonnie Chambers.