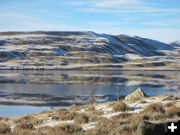 Fremont Lake

Photo taken Monday, January 2, 2012, by Mindi Crabb.

Not-yet-frozen Fremont Lake
Photo by Mindi Crabb
January 3, 2012
Mindi Crabb took this picture on Monday, January 2, 2012. "…uncommon to be able to drive to the Fremont Lake campground in January, and the lake is just barely starting to ice over – resulting in this surreal late afternoon photo."