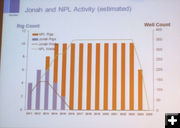 Jonah-NPL

Encana graphic. Photo courtesy Bill Winney.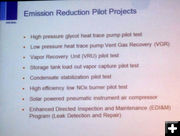 Pilot projects

Emission reduction pilot projects. Encana graphic. Photo by Bill Winney.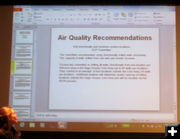 Committee

Linda Baker, Director of the Upper Green River Alliancen, was one of 16 people on the Encana Operators Committed Practices advisory committee. They came up with 152 recommendations for Encana. Photo by Bill Winney.


Encana public meeting about NPL
by Dawn Ballou, Pinedale Online!
January 18, 2012

Encana Oil & Gas US held a public meeting on Wednesday, January 11th in Pinedale. The purpose was to give the public an opportunity to hear more information about their plans for natural gas drilling with the maturing Jonah Field and the new proposed "Normally Pressurized Lance" (NPL) gas field project adjacent to the Jonah.

The meeting included presentations from Big Piney and Pinedale students who are involved in daily ozone monitoring projects through the school. The GO3 Global Ozone Monitoring project involves middle and high school students around the world measuring ground-level ozone on a continuous basis and uploading their data to an overlay in Google Earth. Measurements are made with high accuracy using sophisticated ozone monitors installed and maintained by the students and calibrated on a frequent basis using a transfer standard. GO3 Students throughout the world are building the first global database for ground-level ozone. Encana provided funding for the monitoring kit equipment the schools are using with their weather stations for this ozone monitoring.

NPL Coordinator Paul Ulrich gave a presentation on what is coming with the Jonah Field. Production for that field peaked about a year and a half ago in about 2008 and is now on the decline. The company estimates production will cease in that field in 4-5 years. That will result in a decline in tax revenue and jobs.

Ulrich said the NPL field is different from Jonah. The technology for the drilling process has improved considerably. This field will be drilled using directional drilling techniques on multiple well pads, rather than vertical wells on single pads. The multiple well pads will significantly reduce surface disturbance.

Creating a brand new gas field allows the company to design their equipment and operations from the bottoms up using the newest available technology. The company hopes to have a steady-stream transition of jobs as possible going from the old field into the new one.

Ulrich said it is logical for people to question how the company can be asking for 3500 new gas wells and still claim they will be able to have less emissions than are present today. "We will have a near zero emission source in the NPL," Ulrich said. "We have innovative solutions to air quality issues."

Other highlights:
- Encana has converted all their drilling rigs to natural gas engines, rather than using diesel engines. These engines work better with their drilling technology and are cleaner with respect to air pollution emissions. They said they weren't sure if reducing NOx was better than reducing Volatile Organic Compounds (VOCs), so they are implementing measures and new technology continually to reduce both.

- Encana has worked to consolidate a lot of their facilities into central delivery points (CDPs) to reduce redundant equipment that contributes to air emissions.

- The company is always looking for new ways to reduce emissions, including testing new pilot projects using new technologies. They share information on promising technology with the other operators. Some of the technology that works for one company may not work for others that are using different drilling and operating techniques. They are doing a lot of work with leak detection and repair to minimize fugitive emissions. Their goal is to see a 75% reduction in fugitive emissions.

- The company has an "ozone episodic event response plan for days that are designated Ozone Action Days by the Wyoming Department of Environmental Quality. During those days, Encana, and their third party contractors minimize all activity that would contribution ozone-causing emissions. The company works with all their third party contractors on all of their emission reduction efforts.

- In April 2011, Encana created an Operator Committed Practices Advisory Committee. It was composed of volunteer citizens from Sublette and Sweetwater County with various areas of expertise who worked together to come up with a list of suggestions for the company to consider with respect to the NPL field. The group had a number of meetings and ultimately came up with a list of 152 recommendations they felt should be considered. That list was given to the company and will be shared with the BLM as points to consider in the Environmental Impact Statement document for the NPL. Two of the people on the committee were Linda Baker, representing the Upper Green River Alliance, and Sublette County Commissioner Andy Nelson. Baker said one of the suggestions was the creation of warming huts for vehicles to eliminate emissions from truck idling. Nelson said the electrification of the field should be one of the biggest benefits to reduce air quality emissions from the gas field. Nelson also said the group recommended more air quality monitoring stations to help develop baseline information. The group also asked Encana to try to use environmentally-friendly contractors.

- The company has hired "Industry Hygenists" to come in and evaluate their safety and operating practices, looking specifically at worker/employee exposure to hazardous situations and potential health issues. Employees receive training regularly to reduce exposure situations. The company has started a respiratory protection plan for their employees.

- Ulrich said there appears to be a baseline ozone level of from 40-60 parts per billion as a background level, according to DEQ numbers. Yellowstone National Park has an air quality monitoring station that regularly records those levels without oil and gas activity nearby. "We know we're not starting at 0 PPB," Ulrich said.




Related Links