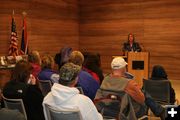 Wolf talk

Cat Urbigkit's talk about wolves on Thursday, January 26, 2012. Photo by Pinedale Online!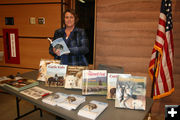 Cat Urbigkit

Cat is the author of many books. Photo by Pinedale Online!


Cat Urbigkit to present wolf talk at Pinedale library Jan. 26
by Sublette County Library
January 22, 2012

The Wyoming Humanities Council and the Sublette County Library will sponsor Public Attitudes About Wolves, a free presentation by Cat Urbigkit at 6:30 pm Thursday, January 26th in the Lovatt Room of the Pinedale Library, 155 S. Tyler Ave. Urbigkit will examine human interactions with wolves, including historic accounts from different eras and portrayals of wolves in literature.

Cat Urbigkit is an award-winning author and photographer based on a sheep ranch near Pinedale. She writes a news blog about wolves in the northern Rocky Mountains.

Public Attitudes About Wolves is presented by the Wyoming Humanities Council as part of its Humanities Forum. The Wyoming Humanities Council provides public humanities-based programs in partnership with local organizations and is funded by the National Endowment for the Humanities.

For more information visit our website: sublettecountylibrary.org or call 307-367-4114.