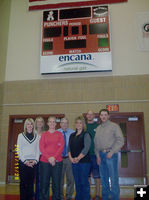 New Scoreboards

Encana's donation to the Big Piney High School Booster Club provided two new scoreboards for the high school athletics program. Pictured left to right: Kenda Tanner, Booster Club; Melanie Bennett, Booster Club; Tracy Pape, Booster Club; Bill Schlepp, HS Principal;Heather Keiter, Encana; Nate Strong, Athletic Director; John Alexander, Encana.


BP students and community will enjoy new scoreboards
by Big Piney Booster Club
December 2, 2011

BIG PINEY – Big Piney High School's Puncher pride will soon be showcased on new scoreboards in the school's gym – just in time for the first basketball game.

Encana Oil & Gas (USA) Inc.'s $8,500 contribution to the Big Piney Booster Club was used to purchase two new scoreboards for the high school athletics program. Sublette County School District # 9 provided the funds for the wireless upgrade.

"There was definitely a need to upgrade our failing scoreboard system," said Tracy Pape of the Booster Club. "The old ones were more than 20 years old, and replacement parts were getting harder to acquire."

The new scoreboards will replace the original boards that were installed when the school opened in 1988.

"We're proud to be a part of the Big Piney community and provide some much needed equipment to the high school," said Encana USA Community Relations Advisor Randy Teeuwen. "We look forward to these scoreboards lasting for many more years and games to come."

The Big Piney Booster Club is a non-profit organization that supports all school and community related activities. The Club works hard to promote good sportsmanship, leadership, character and work ethic. Exxon Mobile donated $500 and Ultra donated $1,000 as well to help the Big Piney Booster Club.

"The Booster Club began last fall to get students, parents, the community, and staff involved again. Our goal was to bring school spirit and pride back into the school," said Pape. "We appreciate Encana's support in reaching our goal."

In the short time it has been around, the Big Piney Booster Club has organized a 3-on-3-basketball tournament, a student concert and BBQ in the park and a 5k race. Around 50 family members form the Booster Club. If you would like to make a donation to the Big Piney Booster Club, please contact Tracy Pape at 307-260-6924.