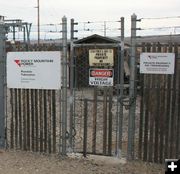 Danger, Keep Out

Only authorized personnel are allowed to enter the substations.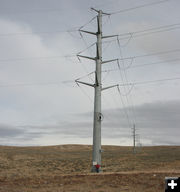 The Giant and the Ant

The reporter stands at the base of one of the high voltage power poles to give a perspective of scale.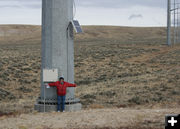 BIG power poles

This shows the size of the huge power poles for the new high voltage line that feeds the Pinedale Anticline.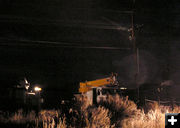 October 11th outage

David Rule took this photo of RMP line repairmen working on a powerpole that caught fire on October 11th on Ehman Lane. Workers were able to restore power to customers that night with customers only being without electricity for one hour. Repairmen came in later and took out the damaged pole and put in a new one without interuppting power to customers at all.


Safety, reliability, top priorities for Rocky Mountain Power
by Dawn Ballou, Pinedale Online!
November 8, 2011

Representatives from Rocky Mountain Power gave a media tour of their facilities in Sublette County on Tuesday, November 1st. The purpose was to explain the causes of recent power outages and to provide information about corrections and improvements the company has already made in Sublette County and improvements planned in the months ahead. The tour included stops at the Pinedale substation, the new transmission line servicing the Pinedale Anticline, and the Chimney Butte substation in Big Piney.

Representatives along for the tour were Jim Bolinger, Director of Wyoming Operations out of Casper, Wyoming; Brett Doak, Southern Wyoming Substation Manager out of Rock Springs; Chris Nelson, Distribution Operations Manager for the Pinedale District; and Jeff Hymas, News Media Relations out of Salt Lake City, Utah.

One thing that became very clear from the tour was the incredible challenge and cost to this utility to safely and reliably bring high voltage power into communities and across great distances to rural locations, make the infrastructure accessible to the employees who must maintain it, while at the same time keeping the equipment out of the way from people and animals that might accidentally or intentionally come in contact with it or try to mess with it. The company regularly invests significant amounts of money in maintaining and upgrading their equipment. Efforts are continually being made to improve safety features and make the system more reliable.

In Wyoming, winter is the peak load time on the equipment. Failures can be caused by lightning, bird activity on the lines or dropping items on the lines; cats climbing the power poles; tree branches touching the lines; squirrels; snow and ice weighing down lines; motorists driving into power poles; equipment failures and other causes.

A recent series of power interruptions impacting the Pinedale area was finally traced to cracked insulators on one of the lines that failed intermittently when affected by moisture. In another incident, an equipment short caused a power pole to catch fire near the substation on Ehman Lane a few weeks ago. That necessitated service to be shut down for a couple of hours while the fire was put out and the system stabilized. Workers were able to replace the burned pole the following day without causing a second interruption to customers' electrical service. Another outage was traced to a raptor that dropped a gopher on a line. The company has built numerous nesting platforms along the lines in areas where osprey and other large raptors want to nest to provide alternate nesting locations. The platforms, along with devices designed to discourage perching on the poles, have helped reduce bird mortality and shorting out the power system.

Although the company has some automated ways to try and isolate trouble spots along the lines, a lot of the work has to be done manually by line technicians, often in the worst of weather when access to the line system can be extremely difficult. Technicians are called out at all hours and in all kinds of weather when there is an outage. They have to visually inspect the lines to try and find a trouble spot. While the technology can narrow down the general area of a problem, sometimes they still must inspect miles of line to try and pinpoint a specific problem area. Remote locations with difficult access often means they must use 4-wheel drive trucks, 4-wheelers, snowmachines or snowcats to get to the lines, depending on the weather and terrain.

To help minimize down time for customers being without power, the company has a variety of things they can do. Breakers allow isolation of outages. Jumper cables can be used in places to bypass a trouble spot to keep power going while workers make repairs. Flashing light fault indicators are being installed on some lines to help technicians more quickly locate trouble spots at night. When an expensive piece of equipment goes down, such as the main transformer, the company can bring in portable ones that are set up on 18 wheel trailers ready to mobilize on short notice.

Power poles are regularly inspected and deteriorated ones are replaced. The entire transmission system is checked twice a year. The distribution system is visually inspected on a two-year schedule. The line system is visually inspected using helicopter flights. Brett Doak, Southwestern Wyoming Substation Manager, said that they have a tracking system for their transformers as well as a maintenance system for the substation equipment. The relays are all tested at regular intervals.

Jeff Hymas, a media spokesman for Rocky Mountain Power, emphasized the company's focus on safety. "There is no tolerance for unsafe behavior by our employees, and we have ongoing training to make sure work is being done safely," he said. "Additionally, we try to do a lot of things to promote safety to our customers and the general public." Special electrical safety materials and lesson plans are available for local schools to try and teach safety messages to school children.

Jim Bolinger, Director of Wyoming Operations, said safety is a must when dealing with high voltage electrical lines. "There are no second chances in this business." The company has strict step-by-step procedures in place for maximum employee and public safety when crews are working on power lines. Not only do employees have to protect themselves when performing power line work on Rocky Mountain Power's system, they must also protect from back-feed along the line from people who have generators sending power over the system when their service is down.

Rocky Mountain Power has been working on projects to bring high voltage lines up into the Pinedale Anticline and Jonah Gas Fields. The new transmission system, which will help the gas field companies convert equipment from using diesel engines for power, should help reduce emissions that are causing concerns over reductions in air quality in the gas fields. The new transmission line has been in development for five years, and Rocky Mountain Power is currently going through the permitting process with the Bureau of Land Management.

"We are trying to improve our system," Pinedale District Distribution Operations Manager Chris Nelson said. "We have systems in place to maintain our infrastructure." He said they are aware of some of the frustration people have expressed recently because of some of the outages and they are working hard to improve not only the reliability but also keeping the lines of communication open for customers who may have questions or concerns. "I want to keep the lights on too," he said. "We want to maintain a good, safe, reliable system."

Anyone who has a question or a concern about their electrical service is encouraged to contact Rocky Mountain Power anytime, by calling toll free at 1-888-221-7070.




Related Links