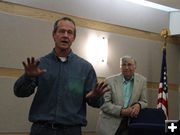 Legislators

Legislators House District 22 Representative Jim Roscoe, a Democrat, speaks while District 14 Senator Stan Cooper, a Republican, listens. Photo by Cat Urbigkit.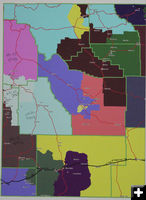 Clerk's revised plan

This revised plan for Sublette, Teton, Fremont and Lincoln counties was presented to the public Tuesday.


Redistricting meeting draws crowd
by Cat Urbigkit, Pinedale Online!
November 15, 2011

Update November 16, 2011 - Audio of Senetor Stan Cooper's statement at the redistricting meeting has been added courtesy of Bob Rule of KPIN 101.1 FM. Audio runs 18 minutes long and the file is large.

Audio - Senator Stan Cooper (8 Mbyte MP3)

Tuesday (November 15, 2011) at 11 a.m. in the county commission meeting room of the Sublette County Courthouse in Pinedale saw a standing-room only crowd to listen and discuss legislative redistricting. The message from the people of Sublette County was clear: The county wants its own house seat, and the amount of money pumped out of this county and into state coffers, in addition to our increased population, justifies the seat.

The session was hosted by the Sublette County Commission, and began with a brief explanation of the redistricting process by Sublette County Clerk Mary Lankford. Noting that a court decision forced redistricting to comply with the "one person, one vote" philosophy, Lankford said this is the third redistricting effort she'd been involved in, with the process taking place every 10 years.

The Wyoming Legislatures Joint Corporations Committee is heading the effort, and a set of standards has been established for the statewide redistricting effort. The end result will be 60 House seats and 30 Senate seats. The principles of redistricting include these concepts:

• Election districts should be contiguous, compact, and reflect a community of interest;
• Population of election districts should be substantially equal, with the range of deviation not to exceed 10 percent;
• To the greatest extent possible, in establishing election districts:
a. County boundaries should be followed;
b. The majority of the population of each county should be in one district; and
c. Census blocks should be followed.

Lankford noted that the Wyoming County Clerks' Association – the group of elected officials who administer elections – met and developed a redistricting plan. That plan would have left Sublette County "mostly whole" Lankford said. Currently, the county is divided into two House Districts.

But when it came down to drawing the lines of the districts in western Wyoming's counties, the Joint Corporations Committee "summarily dismissed" the plan, according to Lankford. The reason for such dismissal remains elusive, but appears to have centered on the community of Dubois and its desire to be included within a Fremont County district, instead of its current status within a Teton County district. That action then impacted neighboring counties and their districts as legislators struggled to stay within the population deviation allowed.

District 14 Senator Stan Cooper explained that as a legislator (he is not a member of the Joint Corporations Committee), he had originally tried to figure out how Sublette County could have its own district.

"We were unable to develop that," Cooper reported. Instead, he teamed with a legislator from Sweetwater County to develop the Cooper/Martin plan for southwestern Wyoming. That plan would leave Sublette County split into two House districts.

"I am not opposed to Sublette County having its own House district, we just couldn't make it work," he reported. The corporations committee accepted the Cooper/Martin plan.

Cooper emphasized that the planning process is not yet closed – that there is time for changes to be made.

Changes are sure to be proposed. Teton County Clerk Sherry Daigle, House District 23 Representative Keith Gingery and Sublette County's Geographic Information Systems guru Rich Greenwood had spent the morning reworking the numbers and proposed boundary lines and had a new proposal for consideration ready during the commission-sponsored session. That plan would indeed leave most of Sublette County intact, but would put some Bondurant residents in with a Teton County district.

"You can have your own seat," Gingery said. "It's do-able."

Gingery noted that Sublette County collects about $90 million extra into the state's school funding system, and because of the financial importance of the county to the state's coffers, "you should have your own representative within your county."

Gingery said that thanks to the concerns raised from people like Dan and Ann Strand Budd, who co-authored a widely distributed letter about redistricting, legislators from outside the area are paying attention.

Gingery said, "There is a building of concern that Sublette County deserves its own seat."

Ann Strand Budd questioned why the concerns of the 1,900 people of the Dubois area would be given more consideration that the 10,000 people in Sublette County.

Sublette County Commission Chairman Joel Bousman noted that Sublette County provides about 20 percent of the revenue generated for the state's general budget.

Sublette County's commissioners repeatedly pressed Cooper to support the clerk's revised plan to give Sublette County an intact district, and Cooper said he would consider the proposal when it is completed, but stopped short of pledging his support.

"I'd be glad to take a look at it," he responded. The clerks will meet again later this week to finalize revisions. The legislative committee will meet again on Dec. 6 to further its redistricting deliberations.

House District 22 Representative Jim Roscoe noted that his district "is the most convoluted in the state, I'm sure."

Roscoe said the clerk's revisions should be used to amend the Cooper/Martin plan to give Sublette County its own district. Roscoe is a member of the Joint Corporations Committee, which he called "a terrible committee to be on."