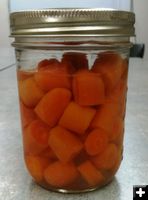 Carrots

Finished canned project: Carrots, preserved in the "Raw Pack Method"

Canning Workshop
November 2, 2011
Recently, the Sublette County Extension Office held a Canning Workshop. The program was held by Jennifer Jacobsen, Nutrition & Food Safety Educator with the University of Wyoming Extension office. The class was a hands-on learning opportunity.

"As the growing season winds down and the hunting season takes hold many people start to think of how to preserve food that the seasons have to offer. A few things to take into consideration are how your family will best enjoy the food, what storage space do you have, and what are you capable of doing when it comes to food preservation," Jacobsen said.

It is important to get your pressure canner tested each year, Jacobsen said. It is possible to get this done at the Extension Office, just remember to plan ahead to allow for scheduling.

Photo courtesy Sublette County Extension Office.