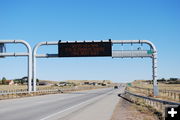 High Winds

Photo courtesy Wyoming Department of Transportation


Approach of 1st winter storm brings high winds to Wyoming
by Wyoming Department of Transportation
October 7, 2011

CHEYENNE, WYOMING – The approach of the first winter storm of the season has the National Weather Service in Cheyenne posting high wind warnings and has WYDOT posting strong wind advisories warning light weight, high profile vehicles against travel. Weather warnings that should be heeded by those vehicle operators.

The WYDOT advisory pertains to trailers of any size (commercial and non-commercial) and to other vehicles such as recreational vehicles which are loaded with light materials (or are empty) and have a profile that is subject to wind gusts. Drivers of such vehicles are advised not to travel when a "no light trailers' advisory is posted as they can anticipate strong gusts of wind which may result in the loss of control of their vehicle or the potential for their vehicle to completely blow over.

By 9:00 a.m. this morning (Friday, October 7, 2011) Troopers in the Wheatland area have been dispatched to eight tractor trailer combination blow over crashes on Interstate 25. The blow over crashes have been reported north and south of Wheatland on Interstate 25 which has prompted WYDOT to post a closure of Interstate 25 to high profile vehicles from Cheyenne to Glendo.

Wind gusts to 73 mph have been recorded by WYDOT weather sensors at Bordeaux which is approximately 8 miles south of Wheatland.

Troopers in the Laramie area are also busy working numerous high profile vehicle blow over crashes on Interstate 80 between Laramie and Arlington. Six tractor trailer combinations and one pickup pulling a 5th wheel trailer have been reported blown over west of Laramie.

Peak wind gusts on Interstate 80 at Cooper Cove, approximately 30 miles west of Laramie, have been recorded by WYDOT weather sensors this morning at 78 mph.

There have been injuries reported in several of the blow over crashes however, at this time it is unknown how severe those injuries are.

Any driver who fails to comply with the "no light trailer" advisory and who is involved in a crash may be subject to a fine and can expect to pay the cleanup costs and fees associated with repairing any damage caused to public and/or private property.

Some areas around the State experienced snow overnight with more snow fall predicted tonight into Saturday morning. In addition to the high wind warnings issued for much of the south east portion of the State the National Weather Service in Cheyenne has also posted winter storm warnings and a winter weather advisory in north central Wyoming.

Travelers wanting information about road closures and advisories can go to http://www.wyoroad.info/pls/Browse/WRR.RoadClosures on their devices to obtain the most up to date highway information.