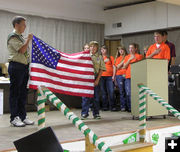 Flag Ceremony

Boy Scout 4-Hers Corey and Jeremy Foreman of Big Piney hold the flag while junior leaders say the Pledge of Allegiance (left to right): Nikki Wadsworth, Courtney Meisner, Kelli Terrell, Ali Wadsworth and Thomas Shaffer.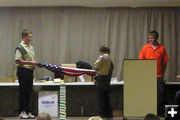 Folding the flag

Wyoming State 4-H Leadership team member, Thomas Shaffer, from Pinedale, looks on as Corey and Jeremy Foreman fold the flag.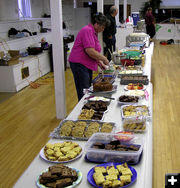 Refreshments

Bob and Nancy Hanson prepared all the smoked pulled pork for the program.