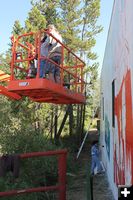 WorkingTogether

Pinedale artist David Klaren supervises work by mural designers Kirsten and Palmer Klaren.


Public art project underway
by Cat Urbigkit, Pinedale Online!
August 13, 2011

A team of artists and community members have been busy with paintbrushes this week, working on the west wall of the Pinedale Properties building in Pinedale. The result will be the first public art project hosted by the Pinedale Fine Arts Council Visual Arts Committee.

The committee did a call for entries for the mural project, and the winning design was submitted by the talented brother-and-sister team of Palmer Klaren, 9, and Kirsten Klaren, 7. The siblings are the children of Michael and Jennifer Klaren, and are the nephew of Pinedale artist David Klaren.

The winning design depicts the Klarens' "Four Seasons of Wonder" through four scenic panels. Palmer focuses on fall and winter in his art, highlighting hunting and skiing, while Kirsten's design includes fishing and canoeing.